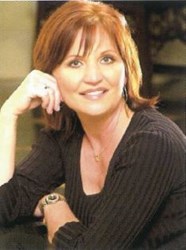 Winter Park, FL (PRWEB) January 16, 2014
Marc-Michaels Interior Design, Inc., twice ranked by Architectural Digest as one of the top 100 Interior Design firms in the world, is pleased to announce that Patti Guthrie has returned to the award winning design firm as their Director of Model Merchandising.
In this role, Patti will provide client service and design leadership. Her ability to manage people and projects, create team spirit, as well as her organizational skills, makes her an integral part of the firm's success. She will be providing design direction and will serve as a liaison between Marc-Michaels Interior Design and the building community.
Patti's drive, strong communication skills and knowledge of the building, architecture and design communities will help Marc-Michaels expand the award winning company's presence and market both local and international projects. She plans to continue to be heavily involved with the National Association of Home Builders and The Florida Home Builders Association.
"I have been working in the design community for over 20 years," says Guthrie. "I'm glad to be back with Marc-Michaels and ready to hit the ground running. I look forward to increasing our annual sales by extending the model merchandising division and to maintaining strong customer relationships and creating new relationships with future clients."
Providing beautiful, comprehensive, full-service interior design is why Marc-Michaels is consistently recognized as an industry leader. For model merchandising opportunities with Marc-Michaels Interior Design, Inc. Patti Guthrie can be reached by e-mail or by phone at 407-629-2124 ext. 3163.
For more than 25 years Marc-Michaels has translated an artistic and "casually elegant" look to all types of projects including private residences, commercial projects, model merchandising, condominiums, jets and mega yacht interiors. For more information and to browse Marc-Michaels' beautiful design portfolios, visit http://www.marc-michaels.com.