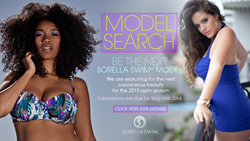 'In searching for undiscovered talent we hope to provide a platform that builds confidence, body-acceptance, and self-esteem among women.' - Jessica Petersen, Sorella Swim Owner and Designer
Los Angeles, CA (PRWEB) May 08, 2014
Sorella Swim, luxurious swimwear for curvy women designed by Jessica Petersen, is searching for the next fresh face. Sorella Swim is offering women across the nation a once-in-a-lifetime opportunity to win a chance to model for the Sorella Swim. Winners will experience a day-in-the-life of a model with a photo-shoot held in Los Angeles, CA. Images from this extraordinary photo-shoot will be showcased on the Sorella Swim website and featured in the Sorella Swim 2015 look book catalog and website. Additionally, model search winners will be compensated with a $350.00 monetary payment and a Sorella Swimsuit of their choice.
Sorella Swim Owner and Designer Jessica Petersen commented, "In searching for undiscovered talent we hope to provide a platform that builds confidence, body-acceptance, and self-esteem among women."
WHAT: Model Search Event
WHO: Sorella Swim, Luxury Swimwear Designer For Curvy Women Size 6 and Up
SUBMISSION DATES: May 6 – 16, 2014
HOW: To submit your photo and entry application, visit Sorella Swim http://shop.sorellaswim.com/pages/model-search.
Sorella Swim has garnered quite a bit of buzz in the fashion community since being featured on CBS' The Insider, Rachel Ray, and Curvy Girls Reality Show. Sorella has also graced the fashion pages of Glamour, Cosmopolitan Latinas, Marie Claire, InStyle, Latina, People Style Watch, More, Oprah, and Essence Magazines.
Designed with curves in mind and true to the brand philosophy, Sorella Swim is fashionable, of superb quality, and is undeniably flattering. The entire collection is proudly produced in Los Angeles, California, and solely Made-in-the-USA.
Sorella Swim can be purchased at select boutiques across the US and UK or globally at http://shop.sorellaswim.com.
ABOUT – SORELLA SWIM (R):
Sorella Swim is a luxury swimwear line for curvy women, proudly produced in Los Angeles, CA and Made-in-the-USA. Created and designed by owner Jessica Petersen, Sorella Swim provides luxe, fashionable, figure-flattering swimwear for women sizes 6 and up. For more information, visit our website at http://www.SorellaSwim.com.
About DDHPR: Founded in October 2010, DDHPR is a boutique public relations firm catering to an eclectic roster of fashion, beauty, non-profit and artist clients. For more information, please visit http://www.DDHPR.com.