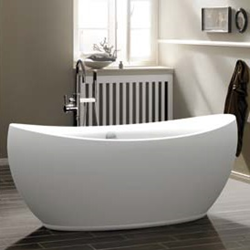 Asymmetrical bathtubs don't always fit so well up against a wall or in a corner, but they make amazing statement pieces that can hold their own when installed in the middle of a large room.
(PRWEB) February 06, 2014
HomeThangs.com – the Online Home Improvement Store has made their goal to deliver the right product to the consumer. With that in mind, shopping and home design tips, as well as special product selections are being introduced.
Clawfoot bathtubs are the number one go-to choice for anyone looking to get something more than just the average bathtub. They're beautiful, iconic, and carry a sense of history with them. But classic clawfoot tubs aren't the only bathtubs that have a unique appearance. In fact, many designers are revisiting and revising the most traditional bathroom styles to give them a sleeker, more contemporary edge. HomeThangs.com has introduced a guide to using less conventional bathtubs as elegant modern statement pieces.
Part of what makes clawfoot bathtubs so striking is simply that they're lifted up off the ground. Just that little bit of white space between the bottom of the tub and the floor commands a second glance and sets them apart from conventional drop in or apron style soaking tubs or even whirlpools. But while a bathtub does need feet to pull off this look, they don't need to be claw feet. Everything else equal, it's the intricate claws that give clawfoot tubs their classic, iconic look, so swapping them out for wood blocks or simplified metal feet will give the whole bathtub a much more modern look.
Classic clawfoot tubs are all about the curves, which means that the easiest way to deviate from this classic style is to simply opt for a slightly more angular tub. Sharpening out a few corners and aiming for an overall more angular, geometric shape on the outside will immediately make a bathtub look much more modern. All those straight lines work well with a modern, minimalist design, and when done right have their own uniquely appealing aesthetic quality.
Clawfoot bathtubs are pretty unfailingly symmetrical. Even one-sided slipper tubs are symmetrical in one direction. But many modern bathtubs are playing with this convention, shirking perfectly matched sides and edges in favor of more interesting shapes. The one drawback of this type of bathtub is that, unlike more symmetrical shapes, they don't always fit quite so well up against a wall or in a corner. Conversely, they make amazing statement pieces that can hold their own when installed free-floating in the middle of a large room.
With the exception of some colored enamel during the 60s and 70s, bathtubs are almost universally white. What that means is that opting for anything else makes the bathtub immediately eye-catching. Some designers are starting to sell bathtubs in solid black, but for an even more unique look, opt for metal, especially stainless steel. Copper tubs are pretty common with a more traditional style, but bathtubs finished with stainless steel are still quite rare and nicely compliment a sleek, polished modern decor.
For something really daring, look for tubs that break away from the conventional bathtub shape entirely. Of course even the most unusual bathtubs will still be five to six or so feet long with at least one sloped side to lean back on, but pretty much anything beyond that is fair game. There are many stunning modern freestanding tubs with lovely, sculptural exteriors - everything from unusual shapes to optical illusions - that are perfect for use as a signature centerpiece for the bathroom.
HomeThangs.com is not only a home improvement superstore, it also provides expert design tips and a comprehensive shopping guide, taking the ideas from professional interior designers, and offering tips to the consumers on how to pick the products to best suit their needs.