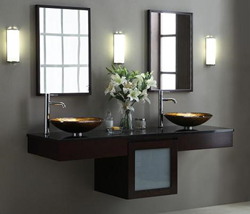 Modern bathroom vanities may look similar at a first glance, but their modular design is customizable and packed full of storage options, making a modern double vanity ideal for a master bathroom.
(PRWEB) October 09, 2013
HomeThangs.com – the Online Home Improvement Store has made their goal to deliver the right product to the consumer. With that in mind, shopping and home design tips, as well as special product selections are being introduced.
At a first glance, modern bathroom vanities might look rather simple – even more than a little bit similar. But despite sharing a similar aesthetic, modern bathroom vanities actually offer a surprisingly diverse array of features. HomeThangs.com has introduced a guide to these innovative and customizable designs, and how small details make them stand out against a stark, minimalist master bathroom style.
Some modern designers, like Xylem, offer full sets of modular bathroom vanity pieces. These can be purchased individually and connected, like building blocks, to create a totally customized style. Counters, drawers, and connecting pieces in multiple sizes can fit together in almost any configuration. This not only allows for a totally custom style, but individually tailored storage and size, too.
Modular double bathroom vanities are quite common in modern bathroom design, which is useful in both small and large bathrooms. In a small bathroom, a modular design allows for a bare-bone, high-efficiency setup that maximizes storage in a small space. In a large bathroom, a very large vanity can be broken up into smaller pieces that can be easily moved through a standard door frame and assembled inside the bathroom.
Modern double bathroom vanities often also come as part of larger combination sets, including storage cabinets. Of course, this isn't unique to modern design, but the simplicity of modern designs means that a greater variety of storage cabinets can coordinate with more than one vanity design. In turn, that means each modern vanity can be paired with storage cabinets in a much wider range of shapes, sizes, and installation types. Plus, modern furniture design is often more storage savvy, meaning even smaller cabinets are often more efficient.
Similarly, while traditional bathroom vanities also often come paired with sinks and faucets, they're very often generic undermount porcelain sinks – more affordable, but nothing remarkable. But when modern bathroom vanities come with included sinks, they're often highly decorative, either vessel sinks or dazzling glass sinks integrated directly into the counter top. These are installed above the cabinet so the sinks seem to be floating, and offer a style that's totally unique to modern design.
And while modern bathroom vanities may be outwardly simple, they often have more sophisticated interior designs, with features like pull out shelves, hidden drawers, drawer organizers, or – most importantly – large storage drawers that go all the way up to the counter. Most traditional vanity cabinets have a large chunk of unusable space below the counter top that's occupied by the sink and plumbing. But shallow, integrated, or top-mount sinks combined with drawers cut to accommodate streamlined plumbing allow for more and more easily accessible storage space.
Finally, modern double bathroom vanities are great for smaller master bathrooms, too, and not just for their extra storage. Because modern vanities are so flexible in their designs, it's possible to find models with two sinks and plenty of storage that are impressively small. Wall mounted double vanities (which are almost exclusively modern in style) take up less space than full cabinets, and narrow designs make the most of every inch by packing the inside with extra drawers and shelves.
For more storage smart modern bathroom vanities, read the full article here.
HomeThangs.com is not only a home improvement superstore, it also provides expert design tips and a comprehensive shopping guide, taking the ideas from professional interior designers, and offering tips to the consumers on how to pick the products to best suit their needs.