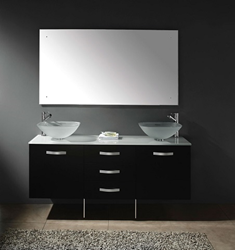 Modern bathroom vanities are designed to blend in, but modern bathroom sinks are designed to stand out, creating a bold, daring accent that acts as a perfect focal point for the space.
(PRWEB) April 24, 2014
HomeThangs.com – the Online Home Improvement Store has made their goal to deliver the right product to the consumer. With that in mind, shopping and home design tips, as well as special product selections are being introduced.
Modern bathroom vanities tend to be fairly visually similar: lots of sharp 90 degree angles, straight lines, and a dark espresso or black finish, with maybe some shiny chrome hardware. Where modern vanities show their personality, though, is in the sinks. Modern bathroom sinks are anything but ordinary, and HomeThangs.com has introduced a guide to a few unique styles that can give even the simplest, most starkly designed vanities a nice personal flair.
Glass vessel sinks are an iconic feature of modern design, so it isn't surprising that many modern bathroom vanities come paired with them. These sinks are relatively simple, with a solid glass construction and smooth bowl shape, and are designed to sit on top of the vanity like an updated modern washbasin. The biggest appeal of this type of sink is simply that they look great; they come in an amazing variety of colors and designs that make them a stylish, signature touch.
Vessel sinks don't just come in glass or bowl shapes, either. Porcelain and vitreous china sinks are also quite popular. Both materials are a pure, glossy white, which gives them an elegant, statuesque appearance that's underscored by the fact that these sinks often come in asymmetrical or otherwise unusual shapes and designs. The sink's white finish goes a long way toward making the space look clean, too.
Low profile sinks are another common feature on modern bathroom vanities, but this has less to do with style and more to do with efficiency. Where traditional sinks take up a lot of space inside the vanity cabinet itself, low profile sinks very shallow basins that don't extend down into the vanity. This also helps minimize the impact of the plumbing, which means being able to include more usable storage space.
Though they're generally considered a bit more traditional, integrated porcelain sinks aren't an uncommon sight. Like low profile sinks, integrated sinks are designed to minimize the impact of the sink, but in this case it's not just in terms of interior storage. They're also often paired with very slim bathroom vanities that sit close to the wall, saving space in a smaller bathroom. The real appeal of having a built in sink, though, is that by fusing the sink and vanity top into a single, solid, non-porous piece, it becomes incredibly easy to clean.
Then there are the sinks that are an integral part of the design of the bathroom vanity itself, like sinks that are partially recessed into the counter. Like an integrated sink, the front curve of the sink protrudes slightly from the front of the vanity, but unlike almost any other kind of sink, they're neither in, on, or under the vanity top, but instead a sort of combination of all three. This placement is incredibly striking and modern, showing off the shape of the sink in a totally unique way.
Sinks that are integrated into glass vanity tops are equally striking. These are created by molding a piece of tempered glass and raising it up a few inches above the level of the vanity, creating shapely white space and fully showcasing that simple glass sink in an even more daring way. But while the appearance of this type of sink is very bold and attention grabbing, it essentially functions just like a more traditional undermount sink, creating a smooth, seamless countertop that's easy to clean while also opening up a little extra storage beneath the countertop.
For more ideas about how to dress up a simple modern bathroom vanity, check out the full article here.
HomeThangs.com is not only a home improvement superstore, it also provides expert design tips and a comprehensive shopping guide, taking the ideas from professional interior designers, and offering tips to the consumers on how to pick the products to best suit their needs.