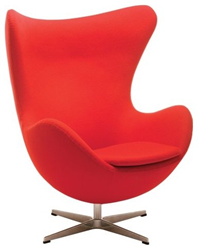 The most iconic mid century modern chairs are considered triumphs of contemporary design and even works of art, and are featured in museums around the world.
(PRWEB) January 07, 2014
HomeThangs.com, the Online Home Improvement Store, has made their goal to deliver the right product to the consumer. With that in mind, shopping and home design tips, as well as special product selections are being introduced.
Mid century modern accent chairs are currently seeing a major revival, especially as statement pieces in high end modern living spaces. These shapely, sleek, slightly futuristic chairs are the perfect replacement for more traditional arm chairs and recliners, and have become widely available in reproduction. HomeThangs.com has introduced a beginner's guide to some of the most iconic designs of the last half century.
The Egg Chair
The egg chair is a modern take on the classic high backed chair, but is designed to look like a shape carved out of the shell of an egg, with curved outer contours and soft rounded edges. This vaguely oval shaped chair sits on a post, giving the impression that it's floating and allowing the sleek, egg shape to remain largely unbroken. Contemporary versions of these chairs are typically upholstered in a single bold color (red is the most common), but can also be found in more traditional materials like leather, more unusual ones like denim, or other patterns.
The Ball Chair
The ball chair, also known as a globe chair, was designed in 1963 by Finnish furniture designer Eero Aarnio and became instantly iconic. Made of a huge, hollowed out orb with a cushiony inside all set on a simple pedestal base, this classic mid century modern chair lends an instant modern touch to any space. Once again, the upholstery on the inside is generally made of a bright, solid color and the outside is almost always a glossy white.
The Swan Chair
Similar to the egg chair, and fashioned by the same designer (Danish Arne Jacobsen), the swan chair has bold, curved lines and no sharp edges. Made of three petal-like curves that have that same cut-out look as the egg chair, the swan chair is a bit more petite without losing its sense of drama. Of all the accent chairs in this guide, this one has probably seen the most revision, and is frequently available in both plastic and cushioned upholstered versions with different types of legs.
The Selig Chair
True Selig chairs have wood frames with intricate, Z-shaped arms, but contemporary versions can be quite difficult to find, and originals are a hot commodity. Instead, look for chairs that replicate the contrast between the arms and the angled seat. The chair arms and seat are both made of rigid right angles, and offsetting them creates a pleasant interplay of lines that makes the chair looks like it's floating.
The Eames Chair
Designed by Charles and Ray Eames and released in 1956 after years of testing, the Eames chair represents a rare fusion of high design and extreme comfort. Unlike many mid century modern chairs, this style has been continuously in production since its release, and is considered a triumph of design that's even earned a place in New York's Metropolitan Museum. Combining molded plywood and leather, the Eames chair certainly isn't the showiest piece on this list, but it may very well be the most comfortable, offering a unique, retro alternative to bulkier recliners.
The Barcelona Chair
Made with a simple, square buttoned back and seat set at a conventional 90 degree angle on top of two X-shaped legs, the Barcelona chair combines stark lines and delicate brush strokes. Unlike many of the accent chairs on this list, the Barcelona is available in multiple sizes, as small as a conventional chair and as large as a full sofa, and is often paired with a matching ottoman. While the curvy X shaped legs aren't particularly showy, they are exceedingly elegant, conveying relaxed sophistication with the most minimal of style.
For more mid century modern chairs, check out the full guide here, or more high quality reproductions from Nuevo Living or Zuo Modern.
HomeThangs.com is not only a home improvement superstore, it also provides expert design tips and a comprehensive shopping guide, taking the ideas from professional interior designers, and offering tips to the consumers on how to pick the products to best suit their needs.