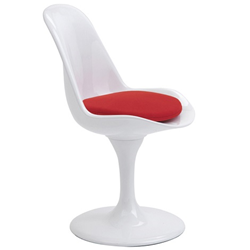 Mid century modern molded plastic chairs combine comfort, durability, and elegance in a form that is easily mass produced.
(PRWEB) January 08, 2014
HomeThangs.com – the Online Home Improvement Store has made their goal to deliver the right product to the consumer. With that in mind, shopping and home design tips, as well as special product selections are being introduced.
Mid century modern chairs are seeing a big upsurge in popularity, both in the living room and in the dining room. Distinctive plastic dining chairs in particular are becoming common both as accent pieces and more practical utility chairs, like in the dining room. HomeThangs.com has introduced a guide to a few of the most iconic of these chairs, as well as how to use them to dress up a high end modern decor.
The Tulip Chair
Tulip chair, designed by Eero Saarinen in 1955, is one of the better known mid century modern molded plastic chairs, as they were used to decorate the bridge on the Enterprise on the original Star Trek TV show. Tulip chairs are usually white, with a sleek, glossy, futuristic look. They're a little bit curvy and vaguely tulip shaped, designed to comfortably fit the contours of the body without any sharp edges or angles. There are versions both with and without arms, and both versions are just the right size to be used at a table or workstation.
Eames Eiffel Chair
The Eiffel chair is one of several chairs invented by Charles and Ray Eames that are getting some renewed attention. Invented in and around 1948, their chairs combined comfort, durability, and elegance in a form that could easily be mass produced. The Eiffel chair is one of the simplest examples, with a molded fiberglass seat set atop four legs held together by an intricate criss-crossing wire structure reminiscent of the Eiffel tower.
Eames RAR Rocking Chair
A modern take on the classic rocking chair, the Eames rocking chair is made of a molded plastic seat, the iconic Eiffel base, and long wooden rockers. The seat itself (which has been made variously of metal, fiberglass, and polypropylene since its release in 1948) is designed to cushion the body, relieving pressure on the back of the legs while providing a comfortable arm rest. These chairs are especially popular today as a way to get the classic comfort of a rocker with a more updated, contemporary look, and are available in a wide range of colors to match any modern decor.
Eames Wire Chair
While most of the chairs designed by Charles and Ray Eames are made of molded plastic, the wire chair is made of bent wire. These chairs are very lightweight and extremely durable (these days, many are even designed for outdoor use). They can have either the classic Eiffel style base or a more conventional four legs, and are available in plain wire or with one or two cushions as well as a few different iconic Eames shapes.
Panton Chair
Designed by Danish Verner Panton in the 1960s and first produced in 1965, the Panton chair is one of the most iconic pieces of the last century, and is considered a Danish cultural icon. Made of a single piece of S-shaped, molded plastic without conventional legs, the Panton chair is entirely stackable and highly durable despite being very lightweight. Originally made of a fiberglass blend, Panton chairs are now typically made with from PVC or polypropylene, and are available in a huge variety of colors.
Wassily Chair
The Wassily chair, originally known as the Model B3 was designed by Marcel Breuer in 1925 and was one of the first chairs to be made of bent, tubular steel. What really makes it stand out today, though, is the use of leather straps to create the seat, arms, and back. Each piece of fabric is stretched tightly between two pieces of metal, creating an impressively sturdy, supportive body with a completely unique appearance.
To learn more about these mid century modern chairs, check out the full article here, or more great designs from Zuo Modern and Nuevo Living.
HomeThangs.com is not only a home improvement superstore, it also provides expert design tips and a comprehensive shopping guide, taking the ideas from professional interior designers, and offering tips to the consumers on how to pick the products to best suit their needs.