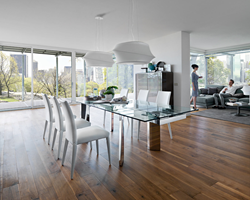 The staff at Pomp Home is knowledgeable and experienced on current interior decorating trends and carries an impressive range of contemporary home furnishings designed to fit California's modern lifestyle.
Los Angeles, CA (PRWEB) August 28, 2014
Calligaris and Pomp Home | Modern Furniture Los Angeles is announcing their Labor Day Dining Sale. The sale starts August 28th and continues until September 15th.
Included in the sale is the much expanded United States quick ship catalogue of dining tables, dining chairs, barstools, buffets and wall cabinets. Additionally, special order dining products shipping out of Italy are also included in the sale. Up to 30% off Calligaris MSRP is offered for all in-store purchases until the 15th of September.
This is a great opportunity to visit the Los Angeles contemporary furniture showroom to see the latest finishes and products that have been launched by Calligaris modern Italian furniture this summer. New tables are on display in the new smoke wood and natural wood finishes. The best selling Park Table and Omnia dining tables are currently on display in the latest finishes as well as the factory buffet.
Also new for this season are the colorful new fabrics and frame colors for many of the latest dining chairs. Cool turquoise, mustard yellow, and classic taupe fabrics, as well as classic neutral tone fabric and leathers are the newest options in the quick ship and special order programs.
The iconic NEW YORK dining chair has undergone a facelift this season. Frames are now available in the classic chrome, new black nickel as well as sky blue and red. This adds a funky new twist on this ever popular, incredibly comfortable dining chair.
Pomp Home, a modern furniture store in Los Angeles, is located right next to downtown Culver City, California. The staff at Pomp Home is knowledgeable and experienced on current interior decorating trends and carries an impressive range of contemporary home furnishings designed to fit California's modern lifestyle. Architects, interior designers and modern design enthusiasts use Pomp Home as their main design resource because of the vast selection of modern designer furniture at the 5000 square foot showroom.
For online shoppers, Pomp Home has a newly re-designed website that allows customers to order their favorite Calligaris products online. But in order to take advantage of the sale prices you will have to visit or contact the showroom directly. Find the Calligaris dining products that you like on the website and you will receive an extra 15% discount on our already discounted prices online by contacting the showroom.
Customers can take advantage of Pomp Home's modern Italian furniture Los Angeles showroom displays to see for themselves the comfort level of Calligaris contemporary furniture designs and review the material on the quality workmanship that has made this designer furniture line a favorite choice for customers who appreciate durability and designs that never go out of style.
The beautifully designed Italian modern furniture offered by Calligaris, which has been in business since 1923, only became internationally available in 1998 when it branched into the US. Since then, the company has launched stores around the world, including their flagship store in Milan and their newest showroom of contemporary furniture in Paris. Their reputation for safeguarding the environment by instituting policies for responsible management of raw material that includes waste recycling and scrap reduction has made Calligaris a favorite choice for eco-minded consumers.
Pomp Home is also the official Los Angeles showroom for Italy's JESSE line of designer furniture. In addition to their wide variety of quality modern Italian furniture and accessories, Pomp Home also offers consultations and components for custom walk-in closets, wardrobes, and media and wall systems as well as bedroom furniture in Los Angeles.
Along with the Calligaris Labor Day sale customers will have an opportunity to see the new quick ship sofas and sectionals from Eilersen, out of Denmark. New this fall are the heavily discounted quick ship sofa line, featuring the Playground, Baseline and Streamline models. Eilersen has lowered the price of these models in the quick ship fabric selection by a whopping 25%. All sofas feature removable slip covers, plush comfort and enduring long lasting comfort.
Eilersen is a Danish company that originally fabricated stage coaches from 1895! Known worldwide for their furniture featuring excellent tailoring, innovative designs, durability and eco-friendly fabrics and materials.
For more information about Pomp Home's Calligaris modern furniture Los Angeles showroom and Labor Day Dining Sale running from August 28 to Sept 15, contact Warren Doke at (310) 287-9944, visit their website at pomphome.com, contact them through their e-mail address at warren(at)pomphome(dot)com, or visit their Facebook page to see their latest selections of fine contemporary furniture in Los Angeles.