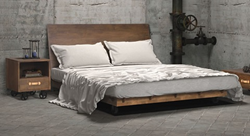 Platform beds offer all the support of a traditional box spring or foundation, but with a sleeker, more streamlined modern appearance.
(PRWEB) August 20, 2014
HomeThangs.com – the Online Home Improvement Store has made their goal to deliver the right product to the consumer. With that in mind, shopping and home design tips, as well as special product selections are being introduced.
Traditionally, a bed consists of a bed frame, a mattress and box spring, and maybe head and foot boards. But that time-tested definition is starting to change in a fairly significant way as more and more people turn to platform beds instead. These sit lower to the ground and have a more contemporary look and feel, and they don't require a box. HomeThangs.com has introduced a simple guide to this relatively new alternative, as well as a few key differences to be aware of.
The job of a box spring is to support the mattress; in theory, box springs have a little give to them that helps the mattress better conform to the shape of the body. But over the last few decades, all but the highest end box springs have gotten a lot less springy, to the point that most should actually be called foundations, because instead of springs, they contain a fairly rigid surface made of either wood or metal. Platform beds have this firm surface built in, so the mattress can be placed right on top, offering a similar amount of support without a box spring.
This isn't always less expensive than buying a traditional bed setup, since the cost of the platform bed versus the cost of a traditional bed frame, head boards, and box spring can vary widely depending on the quality and design, but at the very least it'll save the hassle of having to coordinate all those parts and pieces, since platform beds are sold as a single unit.
The lack of a box spring also gives platform beds a sleeker, more streamlined appearance. Obviously, the exclusion of the box spring means that platform beds sit lower to the ground, but the bed frames themselves are often designed to emphasize this difference, with bases that rise only a few inches up off the ground (if at all) and lower, more understated headboards, rather than the large, grand affairs typically found on very traditional bed frames.
In fact, many modern platform beds can look downright space agey, with a very low profile, sinuous shape, and upholstered bodies. More assertively modern platform beds frequently come with high tech features, too, like built in LED lights.
That said, not all platform beds are excessively modern in style; the lower profile and less traditional look ad feel can also simply be used to make a bedroom feel more relaxed and casual. While very modern platform beds tend to be upholstered (leather is particularly popular), more contemporary ones are often made of rustic or even reclaimed wood that has a beautiful texture without all the posh and polish of an ornately carved, antique style bed.
Platform beds can also be a straight practical alternative to the traditional mattress and box spring. Not all platform beds are strictly modern or contemporary in design, and some even attempt to mimic the height of more traditional designs, either by raising the height of the platform and the headboard, or by adding drawer-style storage underneath the platform, again to help elevate the height of the bed, no box spring needed.
For more thoughts on the differences between a platform bed and a more traditional setup, check out the full article here.
HomeThangs.com is not only a home improvement superstore, it also provides expert design tips and a comprehensive shopping guide, taking the ideas from professional interior designers, and offering tips to the consumers on how to pick the products to best suit their needs.