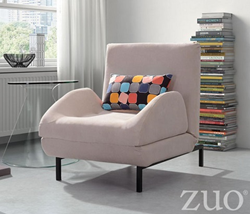 The right reading chair isn't just comfortable, but caters to the needs of the particular reader - and the space the chair will be in.
(PRWEB) July 01, 2014
HomeThangs.com – the Online Home Improvement Store has made their goal to deliver the right product to the consumer. With that in mind, shopping and home design tips, as well as special product selections are being introduced.
People who really enjoy reading tend to do a lot of it, but while of course it's possible to read just about anywhere, for long, marathon reading sessions it's nice to have somewhere comfortable to do it. HomeThangs.com has introduced a quick guide to comfortable, stylish reading chairs to suit just about any reading style or space requirements.
It's tough to beat a classic, and when it comes to reading chairs, an armchair and ottoman combo is an oldie but goodie. These have a cozy, slightly old fashioned feel that pairs beautifully with a good book and a mug of tea or coffee, and they're generally small enough to fit in the corner of a living room or bedroom. Very traditional wingback chairs afford a little privacy, while even a small ottoman makes it possible to recline. Combined with a small accent table for a book, glasses, and that cup of tea, this combo creates an almost instant reading nook.
That said, it might not always be practical to have a dedicated reading chair and a big bulky ottoman to go with it. Sleeper chairs (that is, arm chairs designed in the style of modern sleeper sofas) offer a nice compromise. In chair form, they're compact, stylish armchairs that wouldn't look out of place in any contemporary living room. But unfold them and they turn into full length chaise lounges or even twin beds that are perfect for stretching out and reading in, but that will leave the living room relatively uncluttered when stowed away.
For those that like a little privacy or a particularly cozy spot to read, not just any old reading chair will do. High backed or wingback chairs provide a little shelter, but retro ball chairs are even better, keeping readers totally ensconced and sheltered in a curved dome that's big enough to hide away inside almost entirely. Admittedly, this is a look that can be sort of hard to pull off in anything but a modern home, but these chairs are fantastically cozy despite their space-aged style.
For a really laid back, relaxing reading experience, hanging chairs are the next best things to hammocks. They come in all designs and styles, and can either be mounted to a ceiling or beam or attached to a stand that holds them up off the ground. Usually hanging chairs are designed to work both indoors and out (making them a nice option for a patio or balcony as well).
Sometimes, the best reading chairs aren't the ones that are super comfortable, or even ones in that nice, quiet, secluded corner, but the ones that are portable. Folding chairs or cheap lawn chairs will work for this, technically, but they're neither particularly comfortable nor particularly attractive, which makes them less than ideal. Midcentury modern loungers, on the other hand, have a striking modern look that makes them a perfectly respectable permanent addition to just about any room, but a can also fold into a compact bundle for easy transportation.
Often, reading nooks are relatively compact, secluded spaces – tucked in a corner of the room, a window seat, or other small nook or cranny. But while this is certainly a cozy set up, it isn't a particularly lavish one, and if the space is small enough, it might not be particularly comfortable, either. For those who like to stretch out when they read, there's no more stylish way to do it than with a chaise lounge. These take up a bit more space than a traditional armchair, but they're smaller than a sofa and really not much larger than a chair with an ottoman, so they're perfect for a spare room away from the noise and bustle of heavily trafficked areas of the home.
For more ideas about finding the perfect reading char, check out the full article here.
HomeThangs.com is not only a home improvement superstore, it also provides expert design tips and a comprehensive shopping guide, taking the ideas from professional interior designers, and offering tips to the consumers on how to pick the products to best suit their needs.