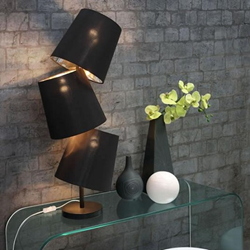 Lamp shades can be dressed up in a huge variety of ways – different sizes, shapes, numbers, colors, materials, and so on. But there's also a lot of room to have fun with the base of the lamp, too.
(PRWEB) April 01, 2015
HomeThangs.com – the Online Home Improvement Store has made their goal to deliver the right product to the consumer. With that in mind, shopping and home design tips, as well as special product selections are being introduced.
Traditional table lamps are defined by a few simple, shared characteristics. Almost universally, they have lamp shades that cover a single bulb, both of which are mounted to a central post on a fixed base. The color or design might vary, but the basic structure is almost always there. With modern table lamps, though, the old rules don't necessarily apply. The number, size, shape, or placement of the shades or bulbs, the style of the central post, or even the overall shape of the lamp as a whole can vary wildly from the conventional idea of a table lamp. HomeThangs.com has introduced a guide to navigating some of these more unusual looks, and what they can add to a contemporary space.
The biggest advantage of choosing an unusual modern table lamp is simple: they're very eye catching. Because table lamps are generally so standard in terms of design, even slight deviations from the norm demand a second look. In a more traditional setting, lamps are primarily functional items that are meant to blend into the background, but in a minimalist modern space, they need to act as decor items or accent pieces in their own right. Because of that, even fairly standard modern table lamps tend to be avant garde in at least one way, and more unusual designs can be worlds away from conventional or ordinary.
For a more in-depth look at some of the more unique features of modern table lamps, check out the full article here.
HomeThangs.com is not only a home improvement superstore, it also provides expert design tips and a comprehensive shopping guide, taking the ideas from professional interior designers, and offering tips to the consumers on how to pick the products to best suit their needs.