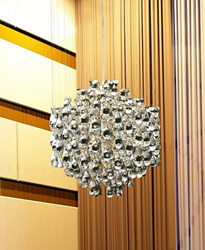 Though crystals are an iconic element of antique lighting, they can very easily be transported into a modern lighting fixture for a totally different effect.
(PRWEB) September 25, 2013
HomeThangs.com – the Online Home Improvement Store has made their goal to deliver the right product to the consumer. With that in mind, shopping and home design tips, as well as special product selections are being introduced.
Modern kitchens are sleek and sophisticated and often have a professional, restaurant style air. But unfortunately, that means that all too often modern kitchen lighting is extremely industrial and utilitarian. Rather than elegant or decorative, most modern kitchen lights are stark, made of sharp geometric shapes and simple, bold lines. Traditional pendants and chandeliers look out of place with a minimalist style, but HomeThangs has introduced a guide to decorative lighting that blends the best of both worlds.
Crystals are the most important decorative element of crystal chandeliers of every shape and size, but the base – the traditional scooped arms tipped with candle flame bulbs – is what gives them their antique, old world style. In fact, crystals can very easily be transported into a modern lighting fixture for a totally different effect. Real crystals paired with an island light done in simple, stark modern lines, creates a posh, sophisticated air.
Crystals also pair incredibly well with one of the most modern materials of all: chrome. The refractive properties of the crystal, combined with the mirror-like finish of chrome interplay beautifully with the light and with each other. Together, they have all the elegance of a traditional chandelier, but without any of the trappings of an antique, and make an excellent formal centerpiece for the whole kitchen.
If using real crystal feels a little too glitzy, consider one popular alternative: glass chandeliers. These come in a lot of different shapes and forms, but are generally composed of loops, teardrops, or globes of glass designed to evoke (but not replicate) the crystals found on traditional chandeliers. These borrow the elegance of more traditional designs while maintaining its own particular modern flair.
For kitchen lighting that's a little less ornate, but not overly simple, look for pendant lights with a geometric design, but one done in a more unusual shape. Rather than a typical cylinder or rectangle, opt for more complex prisms or other unique shapes. The more complex, the better, as even the most intricate designs made of solid, straight lines will still be simple enough to work well with a minimalist modern decor while still being visually interesting, too.
Many of these options have a very polished, sophisticated appeal to them. But for a kitchen with a slightly more urban edge – especially one with a brick-and-exposed-wood loft style – look for a more old fashioned type of kitchen lighting. Not a typical antique like a chandelier, but antique pulley lights and other factory style lights, which are hugely popular in modern design right now. These have are based on turn of the century designs, but between their elegant moving parts and unique features, they feel fresh and new in a simple urban loft.
Finally, to really get the look of a restaurant style kitchen, consider playing up on the style. A kitchen island turned bartop can give a kitchen the look and feel of an upscale bistro, which is great for entertaining. Just about any type of lighting can work, from very simple pendants covered in colored or textured glass shades to petite track lighting in a space with high ceilings. Look to a favorite restaurant or gastropub to find inspiration.
For a few more ideas, or to see some of these in action, read the full article here.
HomeThangs.com is not only a home improvement superstore, it also provides expert design tips and a comprehensive shopping guide, taking the ideas from professional interior designers, and offering tips to the consumers on how to pick the products to best suit their needs.