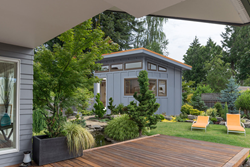 We are more than excited about the new year
Lancaster, PA (PRWEB) March 31, 2016
A portable structure builder in Lancaster, PA is turning a new leaf and unveiling modern prefab sheds with a contemporary design. For the past decades, these designs have been a rare site among the Lancaster County portable structure builders and only a dream for Sheds Unlimited LLC. Most portable buildings from Lancaster County offer a traditional look with a barn, a-frame or carriage house look. But this new modern storage shed design incorporates straight lines and a contemporary architecture into a portable structure.
Development of the contemporary design has been a winter project of Delmar Stoltzfoos, office manager at the Sheds Unlimited manufacturing facility located in Gap, PA. "The slow winter season is our time to develop new products," reports marketing manager at the company. "Orders slow down and it gives time to develop new projects for the coming season and years." While the modern storage sheds from Sheds Unlimited are still in the design and planning stages, they report having strong interest and a few sales even before all the standard features have been named.
The winter of 2015/2016 has been a busy one. A new line of turn-key Tiny Homes has been a major winter project as well. These Tiny Houses in PA can be purchased as a portable building ready for the buyer to finish, or a turn-key small home to set on a foundation. According to the Sheds Unlimited marketing team, the addition of modern storage sheds will soon incorporate the modern shed design into a Tiny House project.
Contemporary home office buildings have been a popular choice for people who work from home but want a private space outside the home. According to the Sheds Unlimited website, this company has already been producing fully finished office sheds. The addition of this new design means that modern home office buildings are another choice for those who wish to work from home in a backyard building.
Next on the radar, says Delmar, is a granny pod for folks looking for a small home in the backyard for their elderly parents. These granny pods will be available in traditional and modern granny pod designs.
The new line of Modern buildings comes with a steeper cost than traditional Amish storage sheds from Sheds Unlimited. The modern storage sheds are built using high quality materials and the typical Sheds Unlimited quality guarantee. They feature high end windows, doors, roofing materials and siding materials.
"We are more than excited about the new year," reports the marketing manager for Sheds Unlimited. The new Tiny Homes and modern portable buildings for sale make 2016 a special year for the company. To make things even more exciting for this small family owned company in PA, Sheds Unlimited is working hard to open a new facility in Berks County that will give room for expansion and allow them to better serve their growing base of customers.