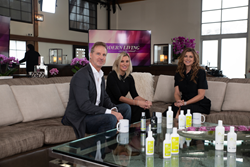 "Our mission is to provide the best method for tanning and avoid sunburn" Suncare Central CEO Ron Hale
LOS ANGELES (PRWEB) June 13, 2019
Modern Living with kathy ireland® is pleased to announce an exclusive interview with Suncare Central CEO Ron Hale and Regional Director Louise Byrne to discuss their all-natural products to protect skin from the sun this summer.
Suncare Central is a company that produces sun protection and tanning products, including sunscreens, moisturizers, lip balms, body wash and more. Suncare Central's products are always 100% natural, toxic-free, biodegradable, reef-friendly and never tested on animals. Suncare Central has more than 25 years of experience at resorts and hotels across the world.
Hale says that Suncare Central offers more than simple sun protection products. He explains, "Suncare Central provides suncare advisors that are trained by us. The suncare advisors are provided to hotel pool decks and international tour operators. We currently work with hundreds of hotels throughout Europe and the United States. Our mission is to provide the best method for tanning and avoid sunburn for a client that is on a pool deck in the sun on vacation. We provide the suncare advisor, but we also provide a high-end natural product with organic ingredients for the client while they're poolside."
JL Haber, Vice President of Programming for Modern Living with kathy ireland®, is excited to feature Suncare Central. He says, "Summer is here! And with that comes the scorching hot sun. It's so important to wear appropriate sunscreen when exposed to the sun's harsh rays. Suncare Central provides lots of these products, but they take it a step further. They provide suncare advisors in order to make sure that hotel guests are doing all they can to avoid sunburn and all of the effects that can have. We're so thrilled to have Suncare Central on our show."
For more information about Suncare Central, visit suncarecentral.com and tune in to WE tv as sponsored content on Thursday, June 13, 2019 at 7:30am EST and Bloomberg International on Saturday, June 15, 2019 at 7:00pm GMT and Sunday, June 16, 2019 at 10:00am D.F. and 2:30pm HKT.
About Modern Living with kathy ireland®
Modern Living with kathy ireland® is a weekly business television program featuring real-world insights from corporate executives all over the globe.
Modern Living with kathy ireland® airs Thursday mornings throughout North America on WE tv as part of their sponsored content lineup and to over 50 countries throughout the world on Sundays on Bloomberg International as part of their sponsored content lineup.