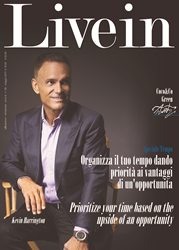 It's spectacular to have international recognition for our work with Modern Business," says Harrington
Coral Springs, FL (PRWEB) July 21, 2017
The Producers of Modern Business with Kevin Harrington, one of the original Sharks from the hit reality series Shark Tank, are pleased to announce that the high-end, large-format international magazine, Livein, which publishes simultaneously in both English and Italian, highlights a 2-page cover story about the Shark himself, Kevin Harrington, and his collaboration with Modern Business in its May 2017 edition.
The magazine features a full-page photo of Harrington on the cover with an article in both English and Italian about him and his association with Modern Business inside. Harrington is the host and headlining spokesperson for the program, which scans world media to find compelling stories about groundbreaking achievements, inspiring people and paradigm-shifting developments, in order to provide viewers with unprecedented access to industry leaders and rising stars. Typical subjects for Modern Business segments could include anything from manufacturing, business management solutions and cost containment strategies to software, cloud computing and outstanding institutions of higher education.
Shot on location, written and edited by the award-winning Modern Business team, these riveting segments, which tend to run from three to five minutes in length, are compiled into half-hour programs and aired in a paid programming format on national and international networks, notably Fox Business News and Bloomberg Television.
Readers of Livein's May 2017 edition are treated to a banner article by the Founder of the ergoActive movement and Inventor of the Back Bliss and Ergo-Gym Computer Workstation, Phil Brady. Phil briefs the readers on Kevin Harrington's impressive background as inventor of the infomercial, mastermind behind billions of dollars worth of sales and star as one of the original "Sharks" on the hit reality television series "Shark Tank". Phil, an avid Shark Tank fan since the show first aired, wanted to write this article after he had taken advantage of Kevin's amazing ability to allow each entrepreneur to shine. After seeing first-hand the power a Shark could bring to his business, Phil now encourages business people, both upcoming and experienced, to "Put a Shark in Your Tank" in order to bolster their own fortunes. Having Kevin Harrington in their corner virtually eliminates any limitations on their success.
"It's spectacular to have international recognition for our work with Modern Business," says Harrington. "The concept behind the show is to track down the world's most inspiring people, compelling stories and groundbreaking achievements to feature on our show."
"We at Modern Business are all about raising awareness and educating our viewers on relevant business topics," says Paul Douglas Scott, Executive Producer of Modern Business. "In his four decades as an entrepreneur, Kevin Harrington has launched more than 10 businesses with over $100 million in sales each. He's also introduced 600 products generating over $6 billion in sales. Kevin has his finger on the pulse of new trends in business and is a great host for Modern Business."
About Modern Business
Headquartered in South Florida, Modern Business is a full-service production, branding, and marketing company that specializes in producing and airing 3-5 minute informative, newsworthy segments about emerging and established companies that have new, innovative, game-changing ideas in order to showcase the hottest products and services that could very well transform our lives in the foreseeable future. Working out of a 25,000+ square foot, state-of-the-art studio, the company's creative team handles every aspect of production from script to screen to airing. For nearly two decades, Modern Business's veteran staff of writers, producers, videographers and editors has amassed more than 50 Telly Awards, thousands of prestigious clients and over $20 million in television placements.
About Kevin Harrington
Kevin Harrington has paved the way as an inspiration to entrepreneurs around the world. He has been welcomed into millions of homes globally over the years through his informative and entertaining programs on both syndicated and paid television. As host of Modern Business, Kevin invites viewers to learn about hard working entrepreneurs, innovative technologies, new companies and exciting advancements. In every episode, he takes viewers behind the scenes with his featured guests.
About Livein Style
Livein is an Italian lifestyle magazine that specializes in publishing high-quality lifestyle stories and subjects of elegance. With articles that range from fine art to high-end wellness centers, the magazine focuses on the promotion of luxury brands. Livein is also the official magazine of the New York Italian community. The magazine has been available in NYC since February 2016 and continues publication on a bi-monthly basis.
For more information on Modern Business, please visit http://www.modernbusinesstv.com.