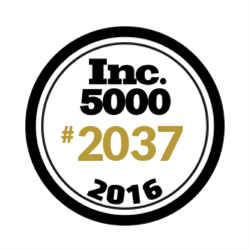 Being highlighted by INC for our success and growth is an incredible honor, and is a testament to the wonderful growth we've experienced recently.
ROCKVILLE CENTRE, NY (PRWEB) August 22, 2016
Moderne Communications - a New York-based experiential marketing firm with deep roots in guerrilla marketing - was recognized by INC Magazine as the nation's 2,037th fastest growing privately held company. The magazine's annual survey celebrates the country's best and brightest companies that are growing at an impressive rate. Moderne, with headquarters in New York, offices in Los Angeles and staff in more than 80 markets throughout the country, was selected for the list because of its meteoric client growth and acquisition of new in-house talent and technology.
It's no surprise that Moderne was recognized for its continued growth. Recently the company announced the appointment of more superstar marketing executives, including guerrilla marketing and poster media expert Ari Chasin, who joined the Moderne team as Chief Experiential Officer. The company has doubled down on its investments in technology solutions, as well, enabling it to handle everything from simple guerrilla marketing programs to more complex integrated experiential marketing campaigns that leverage SnapChat, digital extensions, and more.
Joe Mastrocovi, Moderne's CEO and Founder lauded the accolade and noted that "Moderne is the perfect partner for advertising agencies and marketing shops to call with their toughest client demands. We're a strategic partner from the beginning, outlining client engagement strategy through to the execution of experiential marketing events (including stunts), pop-up experiences, and more. Being highlighted by INC for our success and growth is an incredible honor, and is a testament to the wonderful growth we've experienced recently."
Moderne exists as a strategic partner to advertising agencies and marketing firms worldwide. Agencies turn to Moderne to leverage the agency's interactive experiential enhancements - technology overlays to events, guerrilla marketing programs, and PR stunts - to amplify the client's strategic aims. Moderne's Chief Experiential Officer Ari Chasin says that "Moderne's core services haven't changed over the agency's history, they've only gotten better. We still look at every campaign strategically: how can we get the client's message in front of the most people, and how can we deliver that message to the audience in a way that they're most likely to engage with it and amplify it for us? It's this thinking that propels our growth and our client success."
The agency is no stranger to awards and recognition - recently Moderne was feted as one of the world's Top 100 Experiential Marketing Agency for the 9th year in a row. The INC 5000 award, however, is an exciting development for the growing company, as this is the first time that Moderne has been judged on its client growth, headcount, and financial merits for an award.
As for the chance to win more accolades over the coming years? Moderne's Mastrocovi states: "while we love winning awards, what gets me out of bed every day is knowing that our clients - and their clients - are happy with our experiential marketing work and its results. The best feeling in the world is when I receive emails from clients that simply say: 'Joe, thank you and your team. You made a difference. Let's do that again.'"
INC's list of the 5,000 fastest growing privately held companies was released on August 17, 2016. The full list can be found here: Inc.com/Inc5000
About Moderne Communications
Moderne Communications: we are an alternative, non-traditional full service marketing and media agency that splits our time among experiential marketing, guerrilla/place-based media and interactive technologies. The 2nd "e" is the only thing silent at Moderne! We take on challenging assignments from our agency partners, from strategy to execution. We love solving puzzles, creating program strategies and developing campaigns. We're based in NY, have an office in Los Angeles, and have people and resources across 85 markets nationwide with local expertise.
Since our inception in 1986, we've been building the world of alternative, non-traditional marketing. This is our strength...the world of viral, social media and user generated content, coupled with grassroots PR stunts, mobile tours, promotions, pop-ups, sampling, street teams and street media.
25 + years of experience and our own Non-Traditional Place-Based Media Network - comprised of over 100,000 Independent Neighborhood Venues - help to differentiate us. We can deliver 90% + penetration access to key demographics where key audiences live, work, shop, play and pray.