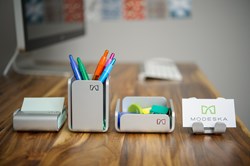 I looked through catalogs and online, but all I found were boring black or clear organizers. I wanted something that was simple, clean, and complemented my computer.
Farmington, CT (PRWEB) November 12, 2013
Launching on Kickstarter today is Modeska, a suite of high-quality, aluminum office accessories that reduce desktop distractions, allowing users to focus on creativity and innovation. The Modeska line includes six products; a business card holder, mini bin for knick-knacks and small items, pen holder, sticky-note dispenser, mail tray, and paper tray that all help organize any desk. With a minimalist design that is as sleek as the computer that it shares a desk with, the Modeska line is well-designed and appealing to the eye. Backers can get their hands on just one piece or the entire line of products throughout Modeska's 30-day crowdfunding campaign.
Modeska is a new startup company founded by Jeremy Biron, the mind behind HonestOffice.com. The accessory line was created in response to the lack of well-designed office accessories on the market today. When Jeremy recently redesigned his office, he was surprised that he could not find a desk set that complemented his new, modern office.
"I looked through catalogs and online, but all I found were boring black or clear organizers. I wanted something that was simple, clean, and complemented my computer," states Biron. "There are all these well-designed tech products, but I couldn't find a good desk organizer, and that's what gave me the inspiration for Modeska."
The entire line of Modeska products is manufactured in Connecticut by an established manufacturer. After discovering that most desk accessories are made overseas, Biron knew he wanted Modeska to be made in the U.S. so his team could monitor production, quality control, and on-time fulfillment. Each Modeska product is laser cut from a sheet of aircraft-grade aluminum and then smoothed out on the edges, by hand, before being form-pressed. After a final round of inspection, the products are powder coated under extreme heat to give them a polished finish that is modern, aesthetically pleasing, and highly durable.
Modeska seeks to raise $15,000 on Kickstarter to facilitate tooling costs, material costs, and the first round of production. Backers who pledge to the crowdfunding campaign can receive an item from the Modeska collection for pledges as little as $30. Also available are rewards that include different product sets, as well as the entire six-piece Modeska collection.
To see the full collection of Modeska office accessories or to back the project today, visit http://bit.ly/ModeskaKS. Be sure to like Modeska on Facebook and follow Modeska on Twitter and Instagram @ModeskaDesign to stay up to date with the crowdfunding campaign, and learn about new rewards, contests, and more.
About Modeska
Modeska is a line of office accessories which complement a well-designed office space. Modeska products are American-made from aircraft-grade aluminum, and are a clean, minimalist, and stylish addition to any workspace. Inspired by the sleek tech devices that are now found in almost every pocket and bag, the company was born out of a desire to promote organization and make room for creativity and innovation. To learn more about Modeska, visit http://www.modeska.com.