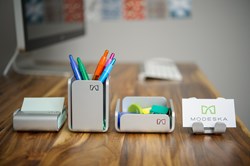 It was important to me that I design a product that not only looked good, but that was high-quality and durable.
Unionville, CT (PRWEB) November 20, 2013
After its first week on Kickstarter, the Modeska line of sleek desk accessories has already raised more than $5,700, over one-third of the campaign's $15,000 funding goal. Crafted from aircraft-grade aluminum, Modeska is a collection of six office accessories that gracefully combine visual appeal and utility; a business card holder, pen cup, sticky note dispenser, mini-bin, mail tray, and paper tray.
Modeska was designed by Jeremy Biron who has experience in the office supply industry as the owner of HonestOffice.com, an internet retailer of office supplies that focuses on the customer experience. Biron got the idea for Modeska when he was redesigning his office and realized that there were no visually appealing desk accessories available to match the rest of his nicely-designed office.
"My head started churning and I began to sketch up what I was looking for. Then I thought to myself, 'if I want something like this, then there must be other people out there that do too,'" claims Biron. "I looked into different manufacturing processes, types of alloys, and various finishes. It was important to me that I design a product that not only looked good, but that was high-quality and durable."
For many people, their office or workspace is a place they take great pride in. While there are many great office products on the market, such as modern desks and ergonomic chairs, there is a lack of desk accessories to complement them. Modeska is a solution to lackluster plastic and mesh organizers, which are made overseas, and come in lifeless black or clear finishes. Modeska products are made to complement today's well-designed tech products while reducing clutter to create a better space for creativity and innovation.
Modeska products are 100% made in the USA. Everything from design and manufacturing to finishing and fulfillment is done locally in Connecticut. Modeska uses laser-cut aircraft-grade aluminum that is pressed and powder coated before being inspected by hand. The project's $15,000 funding goal will go towards facilitating these same processes on a much larger scale.
With three weeks left in Modeska's Kickstarter campaign, backers can still get their hands on a piece of the Modeska suite for as little as $40. A variety of sets are also available such as The Intern Set which includes the sticky note dispenser and the pen cup, while The Writer Set consists of the pen cup along with both the paper and mail tray. Of course, anyone looking to secure the entire Modeska suite can pledge for The Full Set for the complete Modeska package.
To see the full collection of Modeska desk accessories or to back the project today, visit http://bit.ly/ModeskaKS. Be sure to Like Modeska on Facebook, and follow Modeska on Twitter @Modeskadesign to stay up to date with the crowdfunding campaign, and learn about new rewards, contests, and more.
About Modeska
Modeska is a line of office accessories which complement a well-designed office space. Modeska products are American-made from aircraft-grade aluminum, and are a clean, minimalist, yet stylish addition to any workspace. The company was born out of a desire to make accessories that matched a person's sleek tech devices while promoting creativity and innovation. To learn more about Modeska, visit http://www.modeska.com.