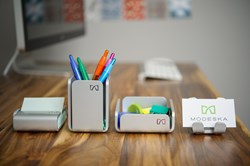 Modeska was designed to update these age old accessories and bring them up to speed.
Unionville, CT (PRWEB) November 26, 2013
Currently running a campaign on Kickstarter, Modeska introduces a new way to bring order to any workspace while taking into account both function and design, just in time for the new year. Modeska is a suite of premium-quality desk accessories constructed from aircraft-grade aluminum meant to complement modern computers and peripherals. The six piece Modeska set includes a paper tray, mail tray, sticky note dispenser, pen cup, business card holder, and a mini-bin for miscellaneous objects.
It has been scientifically proven, via a study done by Princeton University, that clutter negatively affects productivity in every aspect of life. In the case of one's office or workspace, the results are no different. When there is disorganization, multiple things compete for attention, taking focus away from reaching a goal. From an external perspective, the visual representation of one's workspace reflects who they are, including their level of professionalism. Modeska solves this issue by reducing clutter with a design as modern as any new computer.
As the owner of HonestOffice.com, an online office supply store, Modeska creator Jeremy Biron is well-versed in the office supply space. Yet, when redesigning his office, he couldn't find something that fit the style of his modern office, so he set out to create accessories that did.
"Technology is ever-changing, always advancing the capabilities and improving the design of the products we use everyday," notes Biron. "Yet, common desk accessories have remained relatively unchanged for years. By today's standards, they look dull, especially when sharing deskspace with modern tech products. Modeska was designed to update these age old accessories and bring them up to speed."
The Kickstarter community has had a warm reception to Modeska, having pledged approximately half of the company's $15,000 goal with roughly two weeks remaining in the campaign. Many backers have voiced their appreciation of Modeska's minimalist design, which incorporates simple lines and curved edges. Anyone looking to make a new year's resolution of bringing style and organization to their workspace can pledge to the campaign in exchange for individual pieces or the whole Modeska line.
To see the full collection of Modeska desk accessories or to back the project today, visit http://bit.ly/ModeskaKS. Be sure to like Modeska on Facebook, and follow Modeska on Twitter @ModeskaDesign to stay up to date with the crowdfunding campaign, and learn about new rewards, contests, and more.
About Modeska
Modeska is a line of office accessories which complement a well-designed office space. Modeska products are American-made from aircraft-grade aluminum, and are a clean, minimalist, yet stylish addition to any workspace. The company was born out of a desire to make accessories that matched a person's sleek tech devices while promoting creativity and innovation. To learn more about Modeska, visit http://www.modeska.com.