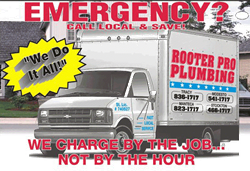 we want to deliver the best value to our Modesto Plumbing customers
Modesto, CA (PRWEB) April 19, 2014
Modesto plumbing and drain cleaning experts at Rooter Pro Plumbing have been serving the Central Valley for many years. They are now offering a new plumbing repair coupon for people who need a Modesto plumber. First time customers can receive $10 off of any plumbing repair. This discount cannot be combined with other offers but gives potential customers a great opportunity to try Rooter Pro Plumbing according to Les Hammond, Owner of Rooter Pro Plumbing, "We are very excited about this new coupon. Ten bucks goes a long way in this economy and we want to deliver the best value to our Modesto Plumbing customers."
Finding a trustworthy plumber can sometimes be difficult, especially when people don't know who to call. A search for a plumber in Modesto can yield many results. Knowing which plumber to choose is hard. "We have many positive consumer reviews from Yelp, Google and other trusted Modesto Plumbing review sites," says Les. Rooter Pro Plumbing caries an A+ rating with the Better Business Bureau and has had no claims in the last three years.
Rooter Pro Plumbing handles all types of repairs including drain cleaning and sewer repair or replacement. "One of the most common types of calls we get is a backed up drain or main sewer line. We have the equipment available to clear any type of clog quickly," says Les. Rooter Pro Plumbing sends out uniformed employees who have been thoroughly screened for the safety of their customers. "We send out a skilled Modesto plumber who will be easy to recognize in a company truck," says Les.
"When it comes to sewer repair in Modesto we provide excellent service. We have the ability to look into the sewer pipe with a video camera. This helps us see exactly what the problem is," says Les. Sewer inspections with a video camera are the best way to accurately determine the condition of a sewer line. Using this technology Modesto plumbers are able to see tree roots, breaks in the sewer line, grease balls and other obstructions within the pipe. Once the problem is correctly diagnosed a solution can be recommended by the plumber. "We offer all types of drain and sewer clearing options ranging from rooter service to hydro-jetting to full pipe replacement."
Trenchless sewer replacement is the process of replacing the sewer pipe without digging up the yard. There are two ways to accomplish this. One is called CIPP or Cured in Place Pipe. Modesto plumbers use this method with an epoxy resin to line the inside of the old pipe. The material hardens and forms a new pipe inside the old pipe. This reduces the diameter of the sewer pipe but is a good solution for many applications. This method is commonly referred to as trenchless relining or pipe lining.
The other trenchless sewer replacement method is called pipe bursting. Modesto plumbers dig 2 holes, one at each end of the sewer line. Then a cable is used to pull a new sewer pipe through the existing one, which makes it burst. This method of sewer repair does not decrease the diameter of the sewer pipe and is a very reliable. Key benefits of trenchless technology include preserving expensive landscaping and saving time.
To learn more about sewer repair in Modesto by Rooter Pro Plumbing please visit their website. People are also invited to read their press releases which feature their coupons and specials. There are also many positive Yelp reviews and positive reviews from other trusted review sources. Homeowners are also encouraged to call for plumbing repair in Modesto.
Rooter Pro Plumbing
Modesto, CA
(209) 576-1617
rooterproplumbing.com