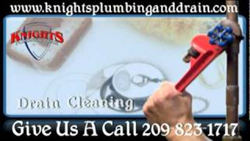 We offer a great guarantee and our Modesto plumbing company will be around to back it up
Modesto, CA (PRWEB) November 22, 2014
Clogs in the drain line can be a serious emergency, especially if more than one drain is backed up. Modesto plumbers at Knights Plumbing and Drain get calls every day from people who need drain clog removal fast.
"We get calls every hour from homeowners in Modesto and throughout the Central Valley who are looking for fast help at a reasonable cost from a plumbing company with excellent service. We do our very best to provide all of those things," says Les at Knights Plumbing and Drain.
The Modesto plumbers at Knights Plumbing and Drain are now offering a new coupon for drain clog service. The coupon is for $15 off the overall price of the job. The new drain cleaning coupon can be applied toward any size pipe including main sewer lines, bathroom drains, floor drains and kitchen drains.
"Everybody around here knows us. And for those who don't we want them to try us out when they have a drain clog. We know they will end up being a customer for life," says Les.
Modesto plumbing companies should be screened carefully according to Les. He says that a lot of people hire unlicensed handymen to do jobs that a professional plumbing company should be doing and there are consequences: "A lot of times homeowners hire people from classified ads or they get a name of a guy from a friend who knows plumbing. A lot of times these people cause bigger problems than they fix."
Knights Plumbing and Drain recommends hiring a licensed Modesto plumber the first time. Les also recommends checking out a plumbing company's online reviews. Knights Plumbing and Drain in Modesto has many positive online reviews on trusted review sites like Yelp, Review Buzz and Google according to Les: "We work very hard to make sure all of our customers have a positive experience. Since we approach our plumbing service this way we end up with a lot of 5 Star reviews on sites like Yelp, Angie's List, Google and Review Buzz." Consumers can easily check Modesto plumbing company reviews by searching their company name on major search engines like Yelp.
In addition to the new $15 off drain cleaning coupons the plumbers in Modesto at Knights Plumbing and Drain are also offering a coupon for water heater replacement and installation. Homeowners can save $35 off any installed water heater. This includes the replacement of an old unit or the addition of a new unit.
"Water heaters tend to last 8-10 years," says Les. "We get a lot of calls for people with leaky water heaters. Sometimes we can repair the leak, especially if the leak is coming from the water pipes leading to the water heater. If the tank is leaking though it almost always means the water heater will need to be replaced."
Money saving coupons and discounts are appreciated by homeowners according to Les, but he say the most comforting thing their customers appreciate is their 100% satisfaction guarantee: "We treat our customers like royalty. That is our slogan and our business philosophy. We have grown our company over the years by turning our one times customers into lifetime customers. That is why referrals make up a very large percentage of our business. Everybody loves our 100% satisfaction guarantee. We offer a great guarantee and our Modesto plumbing company will be around to back it up."
Customer safety is very important to the Modesto plumbing experts at Knights Plumbing and Drain. They put potential employees through a rigorous background check and training program. All applicants undergo an investigation of their criminal record. They are also screened for drug use before being employed and potentially through their probationary period. If the applicant is hired they undergo a supervised on the job training program that Les says separates his plumbers from the competition: "Our technicians our trained to interact with our customers our way, this ensures a consistent customer experience across our service area."
To learn more about Knights Plumbing and Drain please visit their website or read their press release about their plumbers in Modesto. To read their reviews please check them out on trusted sites where homeowners leave reviews like Google and Yelp. To take advantage of the new coupons being offered or to schedule services please call (209) 541-1717. Their support staff can work with customer's schedule to make sure the Modesto plumber arrives when it is convenient for the customer.
Knights Plumbing and Drain
426 14th St
#213
Modesto, CA 95354
(209) 541-1717
knightsplumbinganddrain.com