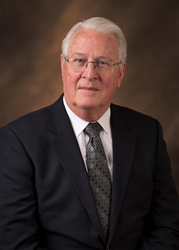 Don is directly responsible for continuing our tradition of technical excellence and dedication to providing our clients with the best solutions to meet their needs.
(PRWEB) June 25, 2014
After nearly a half-century of service to the firm, bridge engineering expert Donald F. Sorgenfrei has announced his retirement from his position as Senior Vice President at Modjeski and Masters, Inc. effective June 30, 2014, but plans to continue working on a part-time basis.
Sorgenfrei most recently oversaw the operations of the New Orleans Office and the field services of the entire firm. In addition, he served as a senior technical advisor for many of the firm's bridge projects and a frequently sought bridge engineering resource for the railroad industry.
"Don has made a measurable impact at Modjeski and Masters throughout his forty-seven years with the firm," said Dr. Zolan Prucz, Chairman of the Board at Modjeski and Masters. "He is directly responsible for continuing our tradition of technical excellence and dedication to providing our clients with the best solutions to meet their needs and forming many of the strong ties that bind Modjeski and Masters to the railroad community. Railroad personnel have often expressed how much they have enjoyed the special occasions that they got to work with Don, how much they have appreciated his expertise as a Bridge Engineer, and how much their counterparts on the other railroads always held him in high regards due to his years of experience at Modjeski and Masters. "
Sorgenfrei began his career with Modjeski and Masters in 1966 as a Junior Engineer in what was then the Harrisburg Office. He was promoted to Associate in 1976, and later to Principal in 1992. He has led business development and growth initiatives as Principal-in-Charge and Office Manager of the New Orleans office for more than 20 years.
His technical contributions span over all phases of bridge engineering: new bridge construction; inspection, safety and maintenance inspections of existing bridges; the evaluation of bridge systems the repair and rehabilitation of all types of bridges; and, response to numerous emergencies involving bridges and litigation support.
"As a second generation Modjeski and Masters engineer, I have seen 70+ years of life with the firm. It is amazing the technological advances in that time: from laborious means of surveying (chaining, turning angles and using log tables) to using satellites and from slide rules to computers," said Sorgenfrei. "Modjeski and Masters has done a great job in keeping up with technological advances, and it must to survive. The Firm's name stands for the highest level of bridge engineering competency. It has been a wonderful and challenging career working on so many bridges and being associated with the best engineers in the industry. Keep it going!"
In his distinguished career, Sorgenfrei made many notable contributions to the industry. Among the most notable, he:

Served as Field Engineer, Resident Engineer, Project Manager and Principal-in-Charge for the construction of 10 railroad vertical lift bridges;
Served as Principal-in-Charge for the inspections of the Crescent City Connection I and II and the Huey P. Long Bridge over the course of much of his career;
Was instrumental in the establishment and oversight of the firm's mid-America offices;
Performed system-wide steel bridge inspections including actively inspecting over 500 bridges in 13 states followed by development and implementation of a first generation bridge inspection database;
Taught steel bridge and movable bridge inspection classes to three Class 1 railroads plus ARBBA and AREMA;
Performed an investigation of the Sunshine Skyline Bridge failure and the Bayou Canot Amtrak accident.
Dr. Zolan Prucz, recently appointed to Chairman of the Board, will assume oversight of operations at the New Orleans office.
About Modjeski and Masters
Modjeski and Masters is one of the world's leading bridge engineering firms, with a reputation for technical excellence and innovation that goes beyond current standards. Established more than 120 years ago, the firm has been responsible for the design and maintenance of some of our nation's most recognizable structures. Services include fixed and movable bridge design, inspection and rehabilitation and all facets of lifecycle maintenance, research and code development. For more information, including in-depth videos of Modjeski and Masters at work, please visit http://www.modjeski.com.