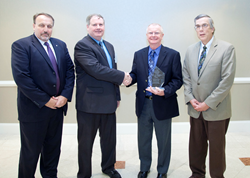 This project is a credit to our entire team and their ability to problem solve with new ideas under very specific parameters.
Mechanicsburg, Pa. (PRWEB) October 30, 2014
Modjeski and Masters is pleased to announce it has won a 2014 Virginia Transportation Construction Alliance (VTCA) Engineering Award. The firm's outstanding work on the Henry G. Gilmerton Bridge replacement project was recognized as best in class for the Virginia Department of Transportation (VDOT) Projects Greater than $10 Million category. The award was presented to Modjeski and Masters October 14th at the VTCA Consultant Forum in Richmond, Va.
The winning project was the replacement of the Henry G. Gilmerton Bridge in Chesapeake, Va. The bridge was a critical crossing in the Hampton Roads area of the state. However, due to deterioration, insufficient number of travel lanes and low water clearance, it had become a bottleneck for both vehicular and marine traffic.
Modjeski and Masters designed a new lift span bridge on the exact same alignment as the existing double-leaf bascule structure. Using accelerated construction techniques, this new span was installed with minimal disruption to the existing bridge, vehicular, marine or rail traffic. The finished project reduced the number of bridge openings by 40 percent, easing traffic for over one million monthly vehicular and marine travelers.
"We were able to design and install one of the widest lift spans ever above an operational roadway and within 25 feet of an operational railroad bridge without disruption to either," said Lance Borden, P.E., senior associate at Modjeski and Masters. "This project is a credit to our entire team and their ability to problem solve with new ideas under very specific parameters. We also couldn't have done it without cooperation from our partners, VDOT, US Coast Guard, Norfolk Southern Railroad, the City of Chesapeake and the local community."
Construction on the Gilmerton Bridge replacement project began in 2009. The bridge was officially opened to the public in November 2013. A full project overview can be found here.
About Modjeski and Masters
Modjeski and Masters is one of the world's leading bridge engineering firms, with a reputation for technical excellence and innovation that goes beyond current standards. Established more than 120 years ago, the firm has been responsible for the design and maintenance of some of our nation's most recognizable structures. Services include fixed and movable bridge design, inspection and rehabilitation, and all facets of lifecycle maintenance, research and code development. For more information, including in-depth videos of Modjeski and Masters at work, please visit http://www.modjeski.com.
About the VTCA Awards
The Engineering Consultant Leadership Committee of the Virginia Transportation Construction Alliance (VTCA) presents the annual VTCA Transportation Engineering Awards program. This program recognized outstanding design work in the Transportation industry.