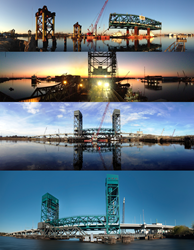 We owe this award to the ingenuity of our team who overcame exhaustive restraints to create a masterpiece of bridge design and engineering.
Mechanicsburg, Pa (PRWEB) December 18, 2014
Modjeski and Masters is pleased to announce that the American Council of Engineering Companies of Virginia (ACEC) named its work on the Henry G. Gilmerton Bridge Replacement as a 2015 Engineering Excellence Awards Grand Award winner. The annual Engineering Excellence Awards (EEA) recognize engineering firms for projects that demonstrate innovation, complexity, achievement and value to the industry.
The Henry G. Gilmerton Bridge Replacement project replaced a key Elizabeth River crossing in Chesapeake, Va. The original double-leaf bascule span dated from 1938. Its low clearance hindered smooth flow of vehicular and marine traffic through the busy Hampton Roads area, resulting in more than 7,500 lifts per year.
Modjeski and Masters designed a new 250' x 89' lift span that could accommodate modern traffic loads while reducing the number of bridge openings by 40 percent. This new lift span was built offsite using accelerated construction techniques, floated down the Elizabeth River and set into place over the course of a single weekend. With the help of partners from Gannett Fleming, Virginia Department of Transportation, City of Chesapeake, US Coast Guard and Norfolk Southern Railroad, the Gilmerton Bridge Replacement was delivered on time and with minimal impacts to the traveling public and commercial industries.
"We owe this award to the ingenuity of our team who overcame exhaustive restraints to create a masterpiece of bridge design and engineering," said Michael F. Britt, PE, senior vice president and director of business development at Modjeski and Masters. "The existing span was situated at a bend in the river and was immediately adjacent to an active railroad bridge. The only way to replace the bascule span with the new lift span was to use the same alignment. To accomplish this, we had to build both overtop of the active bridge and fabricate sections offsite. The results are truly award-winning."
Modjeski and Masters will receive its EEA Grand Award at the Engineering Excellence Awards Gala & Rising Star Presentation, February 5, 2015, at The Jefferson Hotel in Richmond, Va. By winning this award, Modjeski and Masters is also in competition for the Pinnacle Award, which will be announced the night of the Gala event.
A full overview, along with video, of the award-winning Gilmerton Bridge project can be found here.
About Modjeski and Masters
Modjeski and Masters is one of the world's leading bridge engineering firms, with a reputation for technical excellence and innovation that goes beyond current standards. Established more than 120 years ago, the firm is responsible for the design and maintenance of some of our nation's most recognizable structures. Services include fixed and movable bridge design, inspection and rehabilitation, and all facets of lifecycle maintenance, research and code development. For more information, including in-depth videos of Modjeski and Masters at work, please visit http://www.modjeski.com.