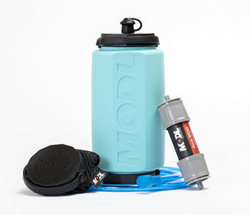 MODL is made for anyone who wants to get more out of their gear so they're ready for any adventure that's in store.
ATLANTA (PRWEB) December 02, 2019
MODL, the multi-functional utility bottle, officially launched on MODLoutdoors.com today. Earlier this year, MODL raised over eight times their funding goal on Kickstarter.
"We're extremely excited to officially launch after a very busy year," said MODL co-founder Zack Leitz. "After discovering the need for a tool like MODL on a camping trip in 2017, we are so excited to finally share this creation with the explorers of the world and see how they use it."
MODL holds 36 ounces (1.1 liters) of liquid and is enhanced by MODs - swappable attachments that unlock unique functions of the bottle and allow it to adapt to a variety of situations:

The Rinse MOD is perfect for outdoor showers, rinsing off gear, friends, and four-legged explorers.
The Flow MOD allows for hands-free drinking while hiking, biking, kayaking, etc.
The Pure MOD filters water from any running, freshwater source, so users can stay outside longer.
The Go MOD is a sports cap which provides easy drinking while running, hiking, and on-the-go.
MODL is available in two different versions: the MODL Complete (Bottle + All 4 MODs) and the MODL Lite (Bottle + Go & Flow MODs) for $125 and $75, respectively.
MODL also brings new functionality to the bottle itself through its patent-pending LifeLoops and GripStrips. Rather than relying on carabiners to clip your bottle, LifeLoops are detachable silicone loops which allow you to loop your bottle to a backpack, bike or branch. GripStrips prevent the bottle from rolling when laid flat.
In keeping with its principle of packability, MODL is collapsible so as not to take up space when in tow. It's also double-ended and dishwasher-safe, so cleaning is a breeze. Finally, MODL is made from BPA free silicone and 316 stainless steel that is extra rust-resistant, making it perfect for outdoor adventures.
Leitz and fellow co-founders Barak Zitron and Justin Guld developed the idea for MODL (short for 'modular bottle') during a camping trip to Appalachia.
"We realized that all adventure gear worth its weight should be versatile, packable, and open-ended. After lugging clunky bottles deep into the forest and through the mountains, we saw that the water bottle simply did not live up to these qualities. We needed a real tool for adventure that redefined what a bottle could be - and the utility bottle was born," Zitron said. "MODL is made for anyone who wants to get more out of their gear so they're ready for any adventure that's in store."
For more information and to purchase MODL, visit modloutdoors.com