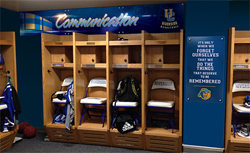 Menifee, CA (PRWEB) September 29, 2014
Modmacro, the Southern California based web design and branding firm, today announced it has completed an environmental design project for the men's basketball locker room at UC Riverside.
The design project was a complete rethinking of the locker room to include motivational signage, cooler wall colors, branded elements that include the school's recently updated logo, a "wall of honor" that highlight awards won by student athletes and more. The new design also includes large wall graphics that add immersive splashes of color and vibrancy to the room.
The project began with an onsite consultation where interior elements like wall colors and environmental graphic locations and sizes were identified. The goal was to create a motivational and inspiring environment by including some of the team's key terms like "accountability" and "communication" into the overall design. At the same time, the design is lively, upbeat and focused on team unity and solidarity - all elements that are important at the top levels of collegiate athletics.
One of the key visual elements of the new design is a large installation of the school's Highlander logo. A solid piece of machined aluminum, the design highlights the team's brand in a high impact, three-dimensional fashion.
Modmacro performed the initial consultation, completed the design work in-house and oversaw the printing, construction and installation of the vinyl and aluminum signage.
"It's always fun to work with clients like UC Riverside who know they need a change, have their budget in place and trust us to be the experts in our field," said Jerry Lund, Creative Director of Modmacro, Inc. "We responded by incorporating the school's brand colors as a base to support fresh contemporary graphics and including additional high impact ideas along the way. The project was a lot of fun to produce and was well received by players, coaches and athletic staff. Their response to our creative vision and the final results make what we do very enjoyable!"
About UC Riverside Men's Basketball Program
The UC Riverside Highlanders men's basketball team competes at the NCAA Division I level. As members of the Big West Conference, UCR is one of nine schools, all based in California. Intercollegiate athletics at UC Riverside are intended to enhance the reputation of the university by striving for athletic and academic excellence while providing student-athletes with the opportunity for growth outside the classroom. Learn more about the men's basketball team at http://gohighlanders.com/index.aspx?path=mbball.
About Modmacro, Inc.
Modmacro is an award-winning web design and branding firm dedicated to helping small businesses succeed. With the belief that a "one-size-fits-all" approach to marketing can't be successful, the team works hard to understand each client's business and industry dynamics. Then a tailor-made strategy is developed that shares each business' story in the right places, helps them stand out from the crowd and builds their brand. Learn more about Modmacro Web Design and Marketing