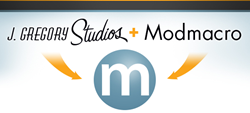 Clients will now get a more complete marketing solution from us, tailored to their goals, and completed under one roof.
Menifee, CA (PRWEB) March 24, 2014
Modmacro, the web design and internet marketing firm, today announced that it has acquired J. Gregory Studios, an award-winning design firm with more than 20 years of experience in graphic design, marketing and advertising. The J. Gregory team will merge with Modmacro to provide small business and non-profit clients with tailored marketing solutions.
J. Gregory Studios has a proven track record for delivering high value design solutions to their clients. With a diverse customer-base, J. Gregory has focused mostly on traditional marketing like branding design and identity. But they have depth in the industry with experience designing for print, packaging, vehicle wraps and more.
"Modmacro and J. Gregory have worked closely together on several projects," said Matt Smith, CEO of Modmacro. "Now after more than a year of working in a strategic partnership fashion, it just makes sense to merge our talents and pool resources. Working together, our team is truly greater than the sum of its parts. We've focused on the client benefits all along as we've discussed how to best merge our companies. Clients will now get a more complete marketing solution from us, tailored to their goals, and completed under one roof. That means marketing campaigns that are better connected and branding elements that are more consistent across all media formats. But our philosophy remains simple. Deliver great results and retain the best clients. J. Gregory clients will be welcomed to Modmacro where they'll receive the same treatment and craftsmanship they've come to know from J. Gregory Studios."
"We're excited to be merging with Modmacro," said Jerry Lund, former Creative Principal of J.Gregory Studios and now Creative Director of Modmacro. "The award-winning digital marketing solutions that Modmacro provides matched with our traditional branding and identity experience will be a major win for our clients. With complementary skills, our combined efforts provide a broader scope of services that clients need. We'll continue to deliver goal-focused marketing and creative solutions, but now we've got more horsepower under the hood."
About Modmacro, Inc.
Focused on growing small businesses, Modmacro advocates the continuous improvement of a company's web presence as their central marketing component. While social media marketing, pay-per-click advertising and other internet marketing tactics are often critical elements of the overall strategy, it's Modmacro's belief that a company's website and the direct search rankings thereof are the most direct path to growth, targeted exposure and building an authentic brand. Now with the talent to deliver professional branding design and identity services, Modmacro provides complete marketing solutions including print design, apparel, traditional advertising and more. Learn more about Modmacro Web Design and Marketing.