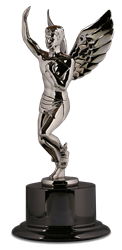 We're pleased to be starting out 2016 with numerous prestigious awards for the work Modmacro delivers on behalf of our clients and partners.
(PRWEB) May 16, 2016
Modmacro, Inc., a boutique web design and marketing firm in Southern California, announced recently that their firm is recipient of eleven awards in the 2016 Hermes Creative Awards. Three of the eleven awards were Platinum, which is the highest honor in the competition. Modmacro also garnered four Gold Awards and four Honorable Mentions.
The three websites receiving Platinum Awards in the competition were: Businessing Magazine in the E-Zine category; Feel Beautiful Plastic Surgery in the Home Page category; and AV Programming Associates in the Small Business category. Modmacro's own website garnered the company a Gold Award.
The Hermes Creative Awards is a well-respected competition sponsored and judged by the Association of Marketing and Communication Professionals (AMCP). Entries come from around the United States, as well as internationally, from advertising, web and graphic design firms, public relations agencies, the marketing departments of Fortune 500 companies, and individual freelance designers. The Hermes Creative Awards are different from other creative competitions because the judges take into account the resources available to the company or individual who created the entry.
To see a complete list of the 2016 Hermes Creative Awards received by Modmacro, as well as other recent awards and honors, visit the Modmacro website.
About Modmacro, Inc.
An award-winning web design and digital marketing firm, Modmacro partners with select small businesses to strategically grow their companies. Their integrated marketing approach is based on a healthy mix of original creativity (design), visual appeal (branding), authentic story sharing, (PR), driving targeted traffic (SEO), original content creation, user experience design considerations (UX), and practical data insights (analytics).
Now in their sixth year, the company delivers tailor-made marketing solutions whose results illustrate clear value to profit-minded decision makers. Through a simple, proven process, Modmacro's approach often challenges established thinking and reboots the status quo. The team invests in educating clients, as well as themselves, with the goal of developing lasting, partnership-level relationships.
About the Association of Marketing and Communication Professionals
The AMCP is an international organization founded in 1995 by a group of creative professionals to administer recognition programs, which include the AVA Awards, Hermes Creative Awards, MarCom Awards, and Communitas Awards. Today, the organization consists of several thousand marketing, communication, advertising, public relations, and media production professionals who are dedicated to offering respected, fair competitions that are open to everyone.