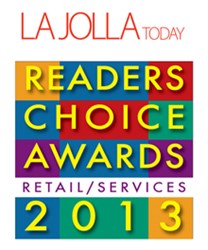 (PRWEB) November 04, 2013
Modmacro was recently named the gold medal winner of the La Jolla Today Readers Choice Awards 2013 for Best Web Design Firm.
La Jolla Today is a twice-monthly newspaper that's published both in print and online. 2013 marks the 5th annual Readers Choice Awards that La Jolla Today has hosted. Ballots were printed in La Jolla Today for several weeks and also posted on the website, http://www.sdnews.com. Readers were given the opportunity to vote for their favorite businesses in roughly 80 categories including everything from beauty salons and banks to accountants, attorneys and web designers. The votes were tallied and winners were awarded with gold, silver and bronze awards. La Jolla Today published a 24 page announcement that listed the winners with a brief bio for the top companies. They referred to the document as "your guide to the best of the best in La Jolla and University City."
"As a Southern California internet agency we're surrounded by talented firms of all shapes and sizes," said Matt Smith, Owner and CEO of Modmacro. "We have a lot of great clients in and around La Jolla and we're honored that they've selected Modmacro as the best web design company in the area. The fact that the Readers Choice Award is voted on by local readers makes it very meaningful. While the satisfaction of our clients will always be of singular importance to us, recognition from the community feels good too."
"Since launching the company in 2010 we've pushed to build our brand as a trustworthy agency that helps grow businesses in serious ways. We're blessed to have loyal clients who continue to partner with us and rely on Modmacro to drive their marketing strategies. Our success is rooted in the success of our clients."
About La Jolla Today
La Jolla Today is part of the San Diego Community Newspaper Group. The news group serves the coastal communities of San Diego including La Jolla, University City, Pacific Beach, Mission Beach, Ocean Beach and Point Loma. With a targeted local readership, the newspaper delivers papers to about 56,000 homes and businesses each week. La Jolla Today is one of the group's newspapers that's published every other Friday and captures about 22,000 readers.
La Jolla Today is the relatively new name for the paper that has traditionally been called the La Jolla Village News. As the Village News, the paper has been a staple of the La Jolla community for decades.
About Modmacro
Focused mostly on small businesses, Modmacro advocates the continuous improvement of a company's web presence as their central marketing component. While social media marketing, search engine marketing, pay-per-click advertising and other internet marketing tactics are often critical elements of the overall strategy, it's Modmacro's belief that a company's website and the direct search rankings thereof are the most direct path to growth, targeted exposure and building an authentic brand. Learn more about Modmacro Web Design and Internet Marketing.