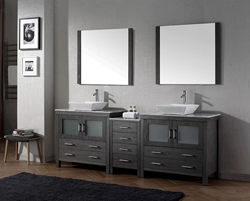 Conventional bathroom vanities top out at about 72″ wide. Anything larger simply becomes difficult to move. But modular vanity sets are like custom cabinets in that they are installed piece by piece, and can be combined together to be as large as needed.
(PRWEB) July 10, 2015
HomeThangs.com – the Online Home Improvement Store has made their goal to deliver the right product to the consumer. With that in mind, shopping and home design tips, as well as special product selections are being introduced.
Furnishing a large bathroom almost always means having to build custom cabinetry. After all, it can be hard to find a pre made vanity that's hefty enough to stand up to a big, open space, and mixing and matching storage cabinets rarely makes for a unified design. But there is another, middle of the road option. Modular bathroom vanity sets make it possible to piece together a vanity that's as large as the space requires, without having individual cabinets custom made. HomeThangs.com has introduced a guide to choosing and using these flexible vanity sets, as well as why they're often a better option than a custom vanity.
Custom built cabinetry primarily consists of cabinets. It's certainly possible to build in drawers, shelves, or makeup stations, but doing so can raise the cost of the project fairly significantly. Unfortunately, cabinets are among the least efficient form of storage for any bathroom, which means a basic custom configuration is less than ideal. Modular bathroom vanities, though, almost always have built in drawers and intuitively placed shelves and cabinets, so on a very basic level, they're more efficient. Because all the pieces are designed to be interchangeable, it's possible to fully customize the design of the vanity, too – particularly what type of storage is placed where.
For a more in depth look at some of the advantages of choosing a modular bathroom vanity, check out the full article here.
HomeThangs.com is not only a home improvement superstore, it also provides expert design tips and a comprehensive shopping guide, taking the ideas from professional interior designers, and offering tips to the consumers on how to pick the products to best suit their needs.