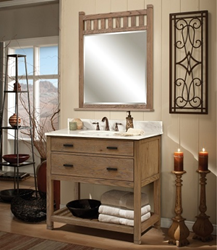 Sagehill's new Toby line is made with beautifully textured hardwood oak and select oak veneers, and is designed specifically to be customizable enough to work in any size bathroom.
(PRWEB) June 14, 2014
HomeThangs.com, the Online Home Improvement Store, has made their goal to deliver the right product to the consumer. With that in mind, shopping and home design tips, as well as special product selections are being introduced.
Textured hard wood is hugely popular in home design right now. Everything from hand scraped wood floors to reclaimed shiplap wall panels have turned into hot, must-have items seemingly overnight. Salvaged and reclaimed wood are the most popular, but textured woods of any kind – that is, any wood with a very pronounced, distinctive grain – is incredibly desirable right now. In response to this trend, HomeThangs is proud to debut a new line of modular, textured wood bathroom vanities from Sagehill Designs.
Sagehill's new Toby line is made with beautifully textured hardwood oak and select oak veneers that have a gorgeous, tactile quality. The collection is designed with simple, streamlined lines and attractive but subtle hardware with almost no other adornment, which really lets the natural-toned wood shine. It also has an open shelf style with a slatted base, which is a very trendy look right now, particularly for a master bathroom.
Just as importantly, Sagehill's Toby collection isn't just one or two bathroom vanities – it's an entire set of completely modular pieces, including vanities in several different sizes, as well as pieces to connect them, like drawers, makeup stations, and even linen cabinets and shelves. That means it's possible to get a vanity with this same trendy style that will work with any size bathroom and any installation type, from a petite 24″ freestanding cabinet for a small bathroom to full wall-length installations for a large master suite.
For a larger installation, it's possible to completely custom design the size, shape, and storage features of the vanity. Because each piece can be purchased individually, and because all the pieces are designed to fit together, they can be arranged into absolutely any configuration – all seamlessly assembled and perfectly matched.
Sagehill's modular vanity collections are designed to make it easy to decorate the rest of the bathroom, too. The Toby collection includes mirrors and medicine cabinets specifically designed to match the style of the vanities, as well as linen cabinets in various sizes that can either be installed as part of a large vanity unit or freestanding on their own. This makes it easy to get a coordinated look throughout the space without having to individually hunt down matching items or hire someone to custom build them.
This type of truly modular bathroom vanity collection is relatively rare, but it has more than a few advantages over having a set of cabinets custom built. Because the pieces come preassembled, these cabinets are much faster and easier to install, and they often cost a lot less, too, both in terms of the price of the cabinets themselves as well as labor costs. It's also one of the few opportunities out there to have a vanity that's on the smaller side built custom without the extra expense of hiring an outside contractor.
Like all vanities from Sagehill Designs, the modular vanities and accessories from the Toby collection are built to the highest quality standards. All drawers are made with dovetailed joining for added strength and longevity, and are placed on smooth, full extension ball bearing gliders, for greater access to the drawers and whisper-quiet operation. The oak hardwood construction, too, makes for a long-lived vanity, and all that beautiful textured wood is treated with an heirloom quality finish to ensure it will stay looking beautiful for years.
To find out more about the modular vanity collections from Sagehill Designs, check out the full article here.
HomeThangs.com is not only a home improvement superstore, it also provides expert design tips and a comprehensive shopping guide, taking the ideas from professional interior designers, and offering tips to the consumers on how to pick the products to best suit their needs.