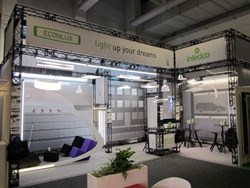 ...our concepts can be erected in a fraction of the time that other modular concepts require.
(PRWEB UK) 30 September 2013
200m2 Exhibition Stands, a leading supplier of modular exhibition stands throughout the UK and Europe, has announced the launch of its own video channel on YouTube. 200m2's new exhibition stand videos demonstrate the ease with which its modular exhibition stands can be built, dismantled and re-configured for virtually any exhibition space in the future.
200m2's modular solutions start with small pop-up type displays, scaling up to advanced trussing systems for concerts and stage shows. All of 200m2 solutions are modular which mean they can be adapted for almost any purpose.
Uniquely, 200m2's modular exhibition stands can be assembled without the use of tools, thanks to a series of innovations which include a patented centre joint fixing mechanism. 200m2's TRUSSwire solution, which is featured on the new video channel, is also foldable. Consequently, it is very easy and cost effective to both transport and store.
Extremely strong yet lightweight, 200m2's modular frameworks can be used both indoors and outdoors thanks to their weather proof composite coatings. Similarly, the printed display panels which simply clip into place between the framework, can be used outdoors thanks to fully photo stable and environmentally friendly printing processes.
Tim Cronin, Managing Director at 200m2 explained "Our modular and exhibition stand services are unique. Metre for metre, our concepts can be erected in a fraction of the time that other modular concepts require. Our new promotional videos clearly demonstrate this unique feature."
Cronin continued "Some other modular exhibition systems sacrifice structural integrity to improve the speed of build. This is another area where our solutions outperform our competition. Take our foldable TRUSSwire solution for example, which is extremely lightweight yet very strong. Made from an aluminium core with a scratch resistant composite outer layer, it has a load bearing capacity of 400 kgs for a 1m span or 35 kgs for every metre over an 8m span."
He concluded "Savvy organisations are switching to modular exhibition stands because they can adapt their exhibition presence as required – go higher, go wider, go outdoors! Consequently, most of our customers buy a 'base module' which is suitable for the majority of their requirements and purchase or lease-in additional modules as required. Exhibition stand rental is now an integral part of our business portfolio as it further extends the advantages of the modular concept."
Find out more about 200m2's range of exhibition stands by calling 020 333 200 92 or by visiting http://200m2-exhibition-stands.co.uk.
-Ends-
About 200m2 Exhibitions
From stand design and stand fitting, to exhibition management and event PR, 200m2 is a leading UK provider of exhibition services. Whatever your requirements, from small modular stands to large 200m2 exhibition stands, we provide specialist exhibition services on a global scale.
Uniquely, 200m2 is the only authorised UK partner of TRUSSwire and CROSSwire, a highly flexible and scalable exhibition system which is extremely lightweight yet durable. 200m2 can also manage your exhibition printing needs by producing artwork which simply clips into place between the framework. Whatever your needs, from stand hire to an all-inclusive service, 200m2 delivers solutions which mitigate risk and reduce costs.
Media Enquiries to:
Tim Cronin
Managing Director
200m2 Exhibitions
M: 07899 966 795
T: 01252 641 070
W: http://200m2.co.uk