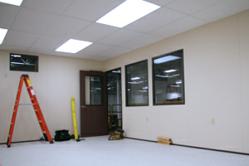 Any combination or arrangement of rooms and offices imaginable can be built with our new wall system.
Cleveland, OH (PRWEB) July 02, 2013
A-Mezz modular wall systems combine green, environmentally friendly construction with infinite flexibility. The new wall systems are demountable, 100% reusable and easily adapt to changing needs.
The wall systems are ideal for commercial landlords who can use the demountable and 100% reusable wall system to adapt to flexible space and new tenant requirements. With conventional wall systems, the steel studs, drywall and internal electrical wiring must be torn down and ends up in a landfill each time a new tenant requiring a different office layout signs a lease. With the A-Mezz Portable wall system, everything including the electrical wiring is 100% reusable and therefore, environmentally friendly.
According to Victor Fowler, president of A-Mezz, "Any combination or arrangement of rooms and offices imaginable can be built with our new wall system."
In addition to front office demountable walls, A-Mezz portable wall systems can be used in a manufacturing plant or warehouse for quick and flexable, in-plant space such as a shipping receiving office, a supervisor's office, meeting room, lunch or locker rooms. A-Mezz portable wall systems are also suitable for more complex needs, such as process control rooms, labs, cleanrooms, specialty enclosures, electrical equipment rooms or any equipment enclosures.
The wall systems are easy to assemble, and do not require taping, sanding or painting. They feature two layers of ½" Firecode gypsum board, poly-stud insulating ribs, and three separate sound reduction chambers. Electical outlets and switches are factory installed in the panels with ether flexible, metal conduit or an optional, modular cabling system with UL Listed plug-in connectors.
Conventional steel stud and drywall construction is considered a permanent fixture or improvement to the propoerty. A-Mezz modular wall systems may be classified as equipment and should have no impact on property property taxes. Also, as capital equipment, modular wall systems can be depreciated over 7 years vs. 31 ½ years for permanent construction(1).
About A-Mezz
A-Mezz Industrial Structures, Inc. specializes in the design and engineering of mezzanines, modular industrial offices, material lifts, wire enclosures, in plant buildings and material handling equipment to provide flexible and cost effective solutions to transform poorly used space into valuable square footage. The company provides complete systems engineered and designed to the customer's intended use and space limitations.
More information is available at http://www.amezz.com or by calling 888-432-2657.
###
1) Contact your accountant or tax expert for advice regarding use classification and appropriate tax obligations as this applies to your intended use.