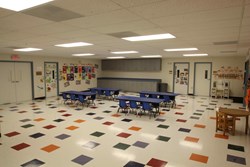 Mansfield, TX (PRWEB) November 30, 2013
Commercial modular construction firm Ramtech Building Systems of Mansfield, TX has released a new promotional video that highlights a five-classroom relocatable modular building recently designed, manufactured, and constructed for Annunciation Orthodox School in Houston, TX. The new 6,400 square foot facility allowed Annunciation Orthodox to relocate their existing pre-K program from an older facility to the new modular school building as part of the private school's long-range master plan. The modular construction project required the demolition of an existing building adjacent to the main campus structure which had been used as a storage facility for several years. With an efficient use of space utilizing eight modules, the relocatable modular building accommodates five classrooms each with its own private entry into a restroom area with child height toilets, a large common area for recreation and food service, a combination office and employee break room, ample lobby area, and convenient storage and laundry rooms. To blend in with the existing structure's architecture and color scheme, the building utilizes HardiePanel stucco embossed vertical siding finished with two coats of elastomeric paint. The interior incorporates vinyl covered gypsum on the walls and vinyl composition tile flooring in a random pattern throughout the building. The building utilizes five zoned Lennox split systems designed for energy efficient for the heating and cooling of the facility. Annunciation Orthodox was responsible for bringing the utilities to the building while Ramtech provided the rough ins for all of the data wiring. The 90 day project required careful coordination of the logistics in moving the pre-manufactured building sections through the narrow tree-lined streets of Houston's historic Museum District. Once installed, the modular school building was finished-out and ready for occupancy prior to the start of the 2013-2014 academic school year.
About Ramtech Building Systems
Since 1982 Ramtech Building Systems has provided over 3,000 innovative modular buildings for government agencies, healthcare providers, Fortune 500 companies, and educational institutions throughout the Southern United States. As a design-build construction company, Ramtech offers full in-house design, a manufacturer direct product, and complete site construction services all within a single-source solution. The Annunciation Orthodox School project was designed and manufactured at Ramtech's Mansfield, TX headquarters, part of a 20-acre development located in the southern part of the Dallas-Fort Worth Metroplex. Structured as a vertically integrated design-build construction company, Ramtech provides space planning, design services, manufacturing, site construction and finish-out on every project they produce. The company maintains a consistent workforce of production workers and supervisory personnel with an average of 13 years experience, many with tenures over 20 years. This experience, coupled with Ramtech's approach to modular manufacturing and construction, allows for greater control at each step in the building process resulting in significant time and money savings for their clients. By emphasizing a value engineering approach, Ramtech has the capabilities to complete a wide variety of diverse projects of all sizes. For more information, visit the company's website at ramtechmodular.com.