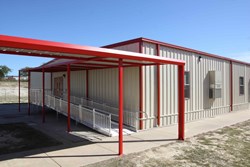 This will provide an additional financing alternative for school districts obtaining relocatable modular buildings or new school facilities using the Accelerated Building System permanent modular construction approach
Mansfield, TX (PRWEB) January 31, 2014
Commercial modular building firm Ramtech Building Systems of Mansfield, TX has announced that the company will begin promoting financial instruments known as Time Warrants to Texas public school districts as an option for financing the purchase of the company's relocatable and permanent modular buildings. Time Warrants have been available to Texas public schools since 1995, however their flexibility for use in construction projects was limited due to their $500,000 maximum loan amounts and terms that were restricted to no more than five years. Now that's all changed, thanks to the efforts of Southlake, Texas-based Government Capital Corporation and the Texas Rural Education Association. Effective September 1, 2013 the Texas Legislature passed House Bill 2610 which dramatically improved the efficiencies of using Time Warrant financing by expanding the terms up to 15 years and increasing the maximum loan amounts to $1 million. Now, public school districts that have a need for capital improvement projects can supplement their available cash balances with Time Warrant financing, eliminating the need to obtain additional voter approved bonds.
According to Gary White, Ramtech's vice-president of sales and estimating, "This will enable us to provide an additional financing alternative for districts obtaining relocatable modular buildings or new school facilities using our Accelerated Building System permanent modular construction approach." In the past, districts were forced to either get new bond approval or utilize their existing surplus cash balances. Unfortunately for many school districts, neither of these options was usually feasible. Working together, Ramtech and Government Capital (a leading public finance company that has provided Texas schools with flexible financing options since 1992) can now provide low cost, high quality modular school buildings that are financed through these expanded Time Warrants. This means for example, that a typical four, six, or eight classroom wing to an existing campus can be purchased without going through the lengthy process of a bond election or using up a school district's existing cash balance. Ramtech will also make it easy to initiate the process by generating at no cost to the district (and prior to entering into a contract) preliminary documents that include a floor plan, site plan, color rendering, and design/construction budget, together with a proposal for financing the project through Government Capital. This comprehensive program will provide a faster, less costly approach to the design, construction, and financing for permanent construction and relocatable buildings available to Texas Public Schools.
About Ramtech Building Systems
Since 1982 Ramtech Building Systems has provided over 3,000 innovative modular buildings for government agencies, healthcare providers, Fortune 500 companies, and educational institutions throughout the Southern United States. As a design-build construction company, Ramtech offers full in-house design, a manufacturer direct product, and complete site construction services all within a single-source solution. Structured as a vertically integrated design-build construction company, Ramtech provides space planning, design services, manufacturing, site construction and finish-out on every project they produce. Ramtech's headquarters and manufacturing operations are located on a 20-acre development in Mansfield, TX in the southern part of the Dallas-Fort Worth Metroplex. The company maintains a consistent workforce of production workers and supervisory personnel with an average of 13 years experience, many with tenures over 20 years. This experience, coupled with Ramtech's approach to modular manufacturing and construction, allows for greater control at each step in the building process resulting in significant time and money savings for their clients. By emphasizing a value engineering approach, Ramtech has the capabilities to complete a wide variety of diverse projects of all sizes. For more information, visit the company's website at ramtechmodular.com.