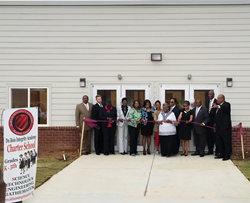 The innovative design of phase one was engineered to accommodate a modular second floor addition to help minimize the initial construction cost.
Riverdale, GA (PRWEB) September 21, 2015
Following a Labor Day weekend full of construction crews working extra hours and teachers preparing their new classrooms, the Du Bois Integrity Academy in Riverdale, Ga. officially opened in their own home.
The new 25,000 square foot, 17-classroom facility utilized modular construction through Innovative Modular Solutions to complete the school on an aggressive timeline.
Du Bois Integrity Academy and its educational management group, Du Bois Charter School Consortium based in Memphis, Tenn., partnered with American Charter Development from Salt Lake City, Utah. American Charter Development agreed to build the school and facilities on the land Du Bois purchased. Innovative Modular Solutions was contracted to complete Phase One construction of the charter school building and Atlanta-based DPR/Hardin Construction acted as the general contractor and site developer.
The new facility houses approximately 400 students in grades K-2. The innovative design of Phase One was engineered to accommodate a modular second floor addition to help minimize the initial construction cost. As enrollment continues to grow, a Phase Two build-out is planned for 2016 which will add a second floor for grades three to five. The current third through fifth grade students will continue classes at nearby satellite campuses.
Du Bois has a lease to own development arrangement with American Charter Development and the school governance board plans to purchase the facility within the next three to five years.
About Innovative Modular Solutions
Established in 1999, Innovative Modular Solutions is dedicated to building high quality modular buildings, including modular classrooms, modular offices and other commercial modular environments. IMS is focused on providing customers with consistent, professional service. As a result, IMS has become a leading provider of modular buildings for temporary or permanent space throughout the Continental United States. For more information, please visit http://www.innovativemodular.com.
About Modular Buildings
Modular buildings utilize the resource efficient process of factory-built construction, where the initial construction occurs in a controlled manufacturing environment. Partially finished modules are transported to the project site for completion. Modular buildings can be used for both temporary and permanent applications and are appropriate for a wide variety of uses, including schools, medical facilities and commercial offices. The advantages include the speed of construction, product flexibility, financing options, and overall cost. Additionally, the modular construction process is inherently green as it offers waste minimization, material efficiency and minimal site disruption. For more information, view our blog series, Modular 101.