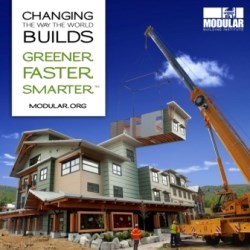 (PRWEB) September 12, 2013
The reality of an expedited schedule and lower costs has made offsite construction a valued building solution for decades. With curiosity about this process at an all-time high as developers turn to the method with growing enthusiasm, the Modular Building Institute will co-host Modular Construction Summits with the British Columbia Institute of Technology in Vancouver and Cal Poly Pomona near Los Angeles on October 2 and 4, respectively.
Do modular buildings last as long as stick built? Are they environmentally sustainable? Can they be as attractive as their traditionally built counterparts? While the answer to all of these questions is yes, the summits will provide an opportunity for people to find out exactly why – and get answers on many more issues.
Each event will feature a morning session with high-profile speakers followed by an afternoon factory tour – Britco in B.C. and Silver Creek Industries in California.
Vancouver speakers are:
-Wayne Hand, Associate Dean, School of Construction and the Environment, British Columbia Institute of Technology
-Ron Kato, Program Head, Bachelor of Technology in Architectural Science, British Columbia Institute of Technology
-Mohamed Al-Hussein, NSERC Industrial Research Chair in the Industrialization of Building Construction, Department of Civil & -Environmental Engineering, Hole School of Construction, University of Alberta
-Chris Gardner, Executive Vice President, Britco
Los Angeles speakers are:
-Leo Marmol, FAIA, Managing Principal, Marmol Radziner
-Jinger Zeng, Project Engineer, Team Las Vegas, Solar Decathlon 2013, University of Nevada Las Vegas
-Jonathan Orr, California State Polytechnic University
-Stuart Emmons, Principal, Emmons Modular
The event is open to the public, but registration is required. For complimentary media registration, please contact Tracey Daniels at tracey(at)modular(dot)org.
About MBI
Changing the Way the World Builds: Greener, Faster, Smarter. The Modular Building Institute is the international nonprofit trade association that has served the modular construction industry for 30 years. Members are suppliers, manufacturers and contractors involved in all aspects of modular projects -- from complex multistory solutions to temporary accommodations. As the voice of commercial modular construction, MBI expands the use of off-site construction through innovative construction practices, outreach, education to the construction community and customers, and recognition of high-quality modular designs and facilities. For more information on modular construction, visit http://www.modular.org.