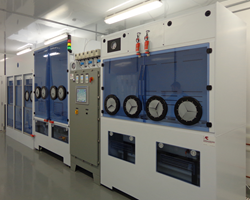 For the tube cleaning cavities and areas inside the unit we used Flametec PVC-C because it meets fire-safe compliance standards, has excellent workability, welds easily and has great aesthetics. --Doug Wagner, Modutek
Scranton, PA (PRWEB) August 26, 2014
Vycom announced today that Modutek Corporation of San Jose, CA, which specializes in chemical process equipment, has selected its Flametec materials for a project with Michigan State University's Facility for Rare Isotope Beams (FRIB). This involved the creation of a 33 ft. long precision cleaning line made with Vycom's Flametec PVC-C and Kytec PVDF material to clean superconducting radiofrequency resonators, which are the essential parts of FRIB's linear accelerator (known as LINAC).
FRIB is being designed and established by Michigan State University as a U.S. Department of Energy Office of Science national user facility supporting the mission of the Office of Nuclear Physics. FRIB is designed to accelerate certain elements in a superconducting linear particle accelerator and create rare isotope beams that will enable scientists to make discoveries in nuclear physics, astrophysics, and in practical applications for society.
Built to MSU's spec in a 6-month time period, the precision cleaning line is designed to regularly purify the accelerator's metal tubes made of an element called Niobium, which has superior conductivity. The unit's Flametec cabinet and bench are designed to hold up to constant exposure to acids and harsh chemicals.
"Our material choices, manufacturing techniques and strong welds are all about safety surrounding the precision cleaning line," said Doug Wagner, President & CEO of Modutek. "For the tube cleaning cavities and areas inside the unit we used Flametec PVC-C because it meets fire-safe compliance standards, has excellent workability, welds easily and has great aesthetics." He said the entire line is tightly controlled with alarm systems, multiple toxic gas sensors and automatic door locks for safety. Flametec meets FM-4910 compliance, which is the Factory Mutual test for fire propagation and smoke density, so there is reduced chance of contamination from smoke particulates which can damage components and threaten worker safety.
Wagner says Flametec's Kytec PVDF was used for holding tanks because of the material's superior chemical resistance. "The material consideration was also critical due to the 70 gallon tank size, temperature control requirement and redundant safety interlocks," he said. The Flametec materials were supplied by Ryan Herco Flow Solutions of Burbank, CA, national distributor for Vycom.
Elite projects such as the MSU superconducting linear accelerator that require highly specialized equipment have become Modutek's trademark. "The intricacies of this project, with materials like Flametec and our quality-control on welding and other techniques, open up a world of possibilities for us," said Wagner. "I would recommend Flametec to anyone using specialized equipment in harsh chemical environments."
For more information about wet process tools and equipment, visit http://www.modutek.com. To learn more about Flametec materials, visit Vycom at http://www.vycomplastics.com.
About Vycom
Vycom, a division of CPG International, is dedicated to maintaining an environment where quality meets performance. Vycom offers the largest range of products, capabilities and inventory for all your Olefin and PVC needs. For more information, visit http://www.vycomplastics.com.
About Modutek
Modutek serves domestic and international customers who have needs in any type of wet processing or lab setting and builds chemical delivery systems for pharma, biochemical, nuclear, solar and wet bench manufacturing. Modutek has a full background in chemical delivery and is a turnkey wet process system integration manufacturing operation.