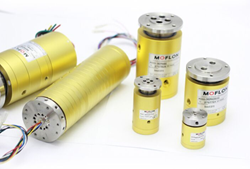 MOFLON Launched Its MAPH Series Slip Rings to Augment Its Competitive Advantages
Shenzhen, China (PRWEB) September 05, 2016
MOFLON is a top-flight manufacturer of slip rings and rotary joints. The China based manufacturing company recently launched their latest MAPH Series pneumatic/hydraulic and electric slip rings that can be shipped in less than 24 hours. The rotary joints are available in five different passageway variants.
According to the owners, the rotary joints can combine 2~24 wires and are available for different connection sizes including M5, G1/8 inch, G1/4 inch, G3/8nch, and G1/2 inch. "The slip rings are also compatible with various media types including air or gas, chemical, tap water and water or glycol", said a sales executive from MOFLON.
With a combined industry experience of thirty long years and a strong presence in Chinese domestic market and overseas for over ten years, MOFLON is now drawing a bead on forging meaningful business partnerships with as many major players in defence, armoured vehicles, radar, and other government heavy equipment manufacturing industries as they can.
At present, their industry-grade slip ring and rotary unions are being used in robotics, camera systems, packaging materials and medical equipment. The owners added that they have been manufacturing slip rings and rotary unions for the military and aerospace applications for more than five years.
With more than 10,000 slip ring and rotary union drawings in its foundry, MOFLON is now able to deliver a rich variety of designs for industrial applications used across disparate industry segments. Offering a diverse range of mounting options, including end-of-shaft, inside-the-shaft and over-the-shaft mounting, the Shenzhen, China based manufacturing company now has a heightened focus on using the highest-grade materials.
The solid coin silver slip rings, gold-gold contact slip rings, stainless steel and aluminium alloys the company produces have full compatibility with various military and medical-grade applications, the owners believe.
"We use only the most sophisticated CNC machines for manufacturing all the parts. Besides, a highly competent workforce makes sure that each slip ring is assembled perfectly and the precise requirements of each of the clients are met", commented the sales head for Chinese domestic market during a press interview.
"Over the years, we have successfully managed to build a workforce of hundred highly experienced employees who are fully committed to contributing their knowhow and knowledge in the rapid and continuous growth of MOFLON. Since 2001, our slip ring and rotary union sales volume has proliferated by at least 10 times, and the total sales volume is now around 30 million USD", added the foreman of the sales force of the company.
The owners of the ISO 9001 certified company underscored the importance of customization at the same press event, adding that bringing more precision in integrated assembly is their top priority now. "Constant innovation is the only means to rise above competition and we are placing higher emphasis on innovation this year", told the CEO and managing director of MOFLON.
About the Company
MOFLON (Moflon Technology Co., Limited) is a leading slip rings and rotary joints manufacturer from China.
To know more, please visit http://www.moflon.com/maph.html