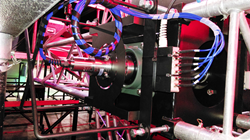 Moflon comes up with its new range of custom designed slip rings
(PRWEB) April 17, 2017
Slip rings are known to be one of the most useful products in the commercial industry. It serves different purposes that help industrialists in conducting smooth manufacturing process. In recent times the demand for electrical slip rings has seen a significant increase and there are many companies that put emphasis on it. These products are being sold online through the website of different companies. One of the companies that have been selling these products through their website includes Moflon.
While buying the slip ring it is important to focus on the durability factor and get it customized. Moflon customizes the product depending on the needs of the clients and provides them value for money. There is no use of physical device while current is being transferred from one product to another. By using this product the manufacturers can easily transfer current from any static source to some rotational object. Primary aim of these objects is to make sure that the task becomes efficient and quicker. In any manufacturing field it is important to make sure that work is conducted smoothly and a quality end result is delivered.
Another advantage with the rings available at Moflon is that there are enough customization options. The functionality is basically the same but the main change comes when it comes to design options. The standard slip ring available at the website comes in various dimensions and power outputs. The voltage of the product varies from 250 watts to 600 watts. It is also important to focus on the rotating speed and buy the one that meets the requirements of the factory. Generally the rotating speed of standard rings varies from 250 RPM to 600 RPM.
The company provides online chatting options and provides support to the buyers. Air slip rings have a 360 degree rotating feature for transmitting circuit, gas and liquid. It is really flexible when it comes to functions as it can transfer hot water, steam, vacuum, coolant and other forms of media. The mixable circuit of this product ranges between 0 to 36 road powers. Even optical power slip ring series has been doing well and they are known for their durability. Systemic operation of this product and effective data transmission becomes really easy with the improvement in mechanical performance. Along with this there are miniature slip rings that are gold coated and ensure low fluctuations. They are typically applied in security monitoring, testing equipment, photography and camera shoot industries.
About Moflon:
Moflon has been manufacturing slip rings for a long period of time. They have been in this field for more than 15 years and the company supplies its products in different parts of the world. To know more about the company, buyers can visit the above mentioned website.
Website: http://www.moflon.com