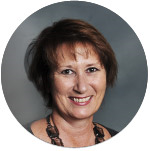 Our mission remains constant: to give retail leaders, managers, buyers, and associates the interpersonal skills and strategies they need to get results in a dynamic, demanding environment.
RIDGEWOOD, N.J. (PRWEB) January 10, 2019
As it continues to grow and expand to meet the demands of a rapidly changing retail environment, retail training firm MOHR Retail has promoted Mary Beth Garcia to the position of President, effective January 1, 2019. Along with that change, Founder Michael Patrick has assumed the newly established role of Chief Executive Officer.
"As a client, an employee, or a consultant, I've been associated with MOHR Retail for more than 20 years," says Garcia, who has served as the company's VP of Client Solutions for the past five years. "I'm looking forward to being able to lead the company at this exciting stage in its growth. And while we've expanded our offerings to include online, microlearning, and blended training solutions, our mission remains constant: to give retail leaders, managers, buyers, and associates the interpersonal skills and strategies they need to get results in a dynamic, demanding environment."
Since joining MOHR Retail, Garcia has worked with a variety of national retailers as a strategic learning partner, delivering leadership, communications, and retail training programs. Prior to her consulting work, she spent more than 20 years in retail management and operations for chains such as Macys, The Bombay Company, and Sunglass Hut International, holding numerous leadership positions in sales, store, district, and regional management.
"Mary Beth has already played a vital role in MOHR Retail's growth, and she knows the retail business inside and out," says Patrick. "In her new capacity, she'll be responsible for overseeing operations, marketing, and finance, working closely with me on strategic initiatives while continuing to serve her current clients and helping us grow our client base. She'll also continue to contribute to product development and enhancement efforts."
Looking at the state of retail today, Garcia sees an even greater need for developing interpersonal skills at all levels, particularly as technology has the potential to de-humanize the store experience. She says that retailers need to make the investment in training their staff, in addition to investing in new technology and systems.
"Now more than ever, if you don't invest in your people, they will not invest in the company with their loyalty and the quality of service they provide your customers," Garcia says. "Technology is necessary and will continue to advance, but it needs to be integrated with, not replaced by, customer service and human interaction skills."
She advises retailers to prioritize training around three key areas, based on current market trends: the so-called "soft" sales and service skills, recruiting and interviewing skills, and leadership behaviors that help drive brand/company loyalty.
Garcia sizes up the latest retail management and workforce trends here.
About MOHR Retail:
For more than 30 years, MOHR Retail has developed the critical people-to-people skills needed to create results in the retail industry. Through innovative classroom and online learning methods, as well as ongoing national retail research projects, the company continues to stay on top of the trends in order to fuel the success of specialty stores, chain stores, outlets, catalogue retailers, department stores, and more. The company provides retail-ready and customized training and consulting solutions for retail multiunit managers, store leaders, support center leaders, buyers and merchant teams, sales associates, and senior leaders. Based in Ridgewood, New Jersey, with offices in Miami, MOHR Retail works with retailers across the country, including Benjamin Moore, Hudson Group, Michaels, LVM, The TJX Companies, and others. Learn more here.