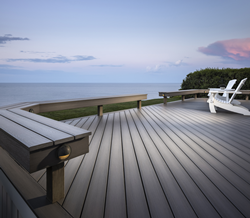 We are beyond thrilled for our Meridian product line to be selected as a Home Reno Award-winner by Good Housekeeping, a trusted resource for homeowners. -- Matthew Bruce, Vice President of Sales, MoistureShield
ATLANTA (PRWEB) November 09, 2022
MoistureShield® Meridian™, a signature brand at Oldcastle APG, has been named a winner of the Good Housekeeping 2022 Home Reno Awards in the Excellent Exteriors category.
Available in the U.S. as an accessible upgrade from standard wood decking materials, MoistureShield Meridian is a capped wood-plastic composite decking with TruTexture™ Surface. Through MoistureShield's Solid Core manufacturing process, Meridian combines enhanced moisture and scratch resistance with a natural wood-grain finish to offer a superior product with an authentic wood aesthetic.
"We are beyond thrilled for our Meridian product line to be selected as a Home Reno Award-winner by Good Housekeeping, a trusted resource for homeowners," said Matthew Bruce, Vice President of Sales, MoistureShield. "This outstanding achievement for our innovative, recently introduced product is a testament to its position in the market as a widely popular outdoor living necessity with plenty of potential for growth."
Meridian's premium colors include new Catalina, a soft "greige" (gray-beige) shade reminiscent of aged shiplap; Citadel, a cool Atlantic gray with a subtle patina; Shoreside, a subtly variegated golden sandy blonde; and Mariner, a timeless dark brown with rich undertones. Catalina, Citadel and Shoreside include MoistureShield's industry-first, proprietary CoolDeck® technology. CoolDeck minimizes heat absorption by up to 35% compared to traditional capped composite boards in a similar color for a more comfortable outdoor living space.
As with all MoistureShield deck products, Meridian features the proprietary Solid Core manufacturing process for protection against moisture absorption, warping, rotting, and damage from insects. It is well-suited for installation in the ground, on the ground or underwater. Meridian is offered in square edge and grooved 1x5.4 deck boards and in 12', 16', and 20' lengths.
MoistureShield decking is proven in the field for 30 years with zero structural failures and is backed by a 50-year transferrable structural warranty for all decking series.
Learn more about MoistureShield Meridian and click here to read more about the winners of the Good Housekeeping 2022 Home Reno Awards.
About MoistureShield
MoistureShield is the signature composite decking brand of Oldcastle APG, a CRH Company and leading provider of outdoor living and building materials. MoistureShield manufactures innovative composite deck boards with protective cap, color and surface technologies that create a natural wood look with the ability to withstand impact and water submersion. The brand's CoolDeck® Technology is the first of its kind to deliver surface heat absorption solutions. Visit http://www.MoistureShield.com for more information.