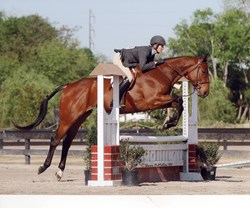 If 50 people gave $10 today we'd instantly exceed our goal.
Fort Worth, TX (PRWEB) September 05, 2013
Every year, Mojo Thoroughbred Holdings, LLC makes annual contributions to the two charities it supports: The Permanently Disabled Jockey's Fund and Remember Me Rescue. During the summer, Mojo also sponsors an event to raise additional awareness and funds for their charities.
"In years past, we've simply publicized the direct donations Mojo makes, held trivia contests, and organized a handicapping contest (where the proceeds from the winnings were divided and donated to our charities)," explains Fred Taylor, Mojo's CEM. "This summer, we're taking a different approach to our summer charity fundraising and focusing our efforts on a worthy cause in our home state."
Mojo's goal is to raise $1,000 by September 23, and to reach it, partners, friends, family members, fans, and associates are asked to do a few things for us…
1) Visit Mojo's Summer Charity Fundraiser
2) Make a donation in any amount.
3) Share this information with family and friends.
"We're coming down the homestretch, and every little bit helps," Fred pledges. "If 50 people gave $10 today, we'd exceed our goal instantly. Any small donation actually goes a long way toward providing much-needed assistance for retired race horses in Texas."
Mojo is utilizing the crowdfunding platform FundRazr to help coordinate the donations. All of the proceeds raised during our summer campaign (minus FundRazr's service charge) will be donated to Remember Me Rescue—Mojo does not receive any cut from the donations.
Remember Me Rescue
The Remember Me Retired Racehorse Program was formed in 2008 by Dallas and Donna Keen to assist retired and injured race horses after their careers at the track are over. Remember Me accepts, rehabilitates, and retrains ex-race horses with the hopes of finding new homes with responsible owners. Remember Me is an IRS approved 501(c)3 Program. To learn more about Remember Me Rescue, go to: Team Keen.
Mojo Background
Mojo Thoroughbred Holdings, LLC (which conducts its racing operations as Mojo Racing Partners) is based in Fort Worth, TX and was formed in 2006. Since then, Mojo has raced at Arlington Park, Churchill Downs, Indiana Downs, Keeneland, Kentucky Downs, Lone Star Park, Remington Park, and Turfway Park. Mojo's on a mission to give people Smart, Affordable, Fun, and Educational opportunities to participate in the sport of Thoroughbred racing.