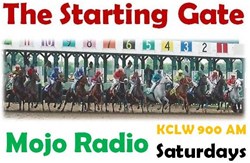 The show is dedicated to giving the people new insights about the benefits of participating in the sport.
Fort Worth, TX (PRWEB) October 29, 2013
There's a new way for horse racing fans and wanna be owners to learn about the sport of Thoroughbred racing - a bi-weekly radio program called: "The Starting Gate".
Partnering with KCLW in Hamilton, TX, Mojo Thoroughbred Holdings, LLC will produce 25 shows about horse racing and the ownership experience that will be on the air every first and third Saturday each month starting November 2.
"I want to help people better understand the sport from the inside out," says Fred Taylor, Mojo's CEM. "And, my overall goal with this radio program is to provide our listeners with unique perspectives about the nuts and bolts of Thoroughbred racing—the things that really make the sport interesting."
Links to each broadcast will be available on the Mojo website via The Starting Gate page. And each show will eventually be converted to podcasts for the listener's mobile convenience.
"Thoroughbred racing is a fun, fashionable, and social sport," Fred continues. "However, the majority of what takes place these days is being filtered out and only the sensational happenings at the extreme ends of the spectrum are being seen. There's a new generation of people, a gigantic middle ground, that's missing out on the excitement, as well as the endless supply of heartwarming personal-interest stories that the sport provides. The show is dedicated to giving the people new insights about the benefits of participating in the sport."
The Starting Gate will be a topic-driven program hosted by Fred Taylor that will run 30 to 40 minutes. The show will take listeners out to the farms, sales companies, and race tracks to introduce the behind-the-scenes perspectives. And, every fourth show will feature an interview with "the experts" who breed, sell, train, and come up with the strategies for horse racing success. The show will also provide businesses with opportunities to sponsor the program and/or place their ads if they like.
"Our show is about discussing why owning a race horse is a fun and personally rewarding experience," Fred explains. "Though we'll discuss the fundamentals of racing, The Starting Gate isn't focused on the daily race card or handicapping—there are already plenty of programs like that out there."
For more information about The Starting Gate radio show, placing an ad, or becoming a sponsor, please contact: fredtaylor(at)mojoracingpartners(dot)com, (214) 957-4090 or Tim Rickert at KCLW.