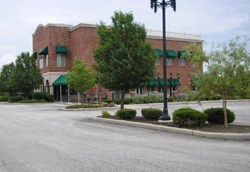 Mokena, IL (PRWEB) September 13, 2013
Included in Micoley.com's latest major property auction event is an opportunity for an investor to open a spacious restaurant and banquet hall, in a spacious building in a friendly and very safe neighborhood. The property is highly accessible to customers, with ample parking, potential foot traffic thanks to a train stop a short walk away, and a potential groundswell of patrons waiting for such an establishment to pop up.
This exciting auction event will be held online on September 28, but with items like this going on the block, Micoley recommends making pre-auction offers.
This two story restaurant was built in 2004, and designed to house an enormous number of diners at once. In addition to standard dining, this property is equipped for banquets, and includes a bar. Totaling 14,754 square feet, this is a very large restaurant property. It is also zone for other types of commercial activity.
It appears that the neighborhood's recent growth came after the closure of the previous restaurant business. That means that potential patronage from the nearby medical center and college campus represent huge opportunities for profit.
Potential business opportunities are as follows:

A gastropub or brewery/restaurant would be a fitting addition to the neighborhood.
A family restaurant offering standard american fare.
A "banquet-style" or "family-style" Italian restaurant.
A "destination" four or five star restaurant, perhaps run by an established Chicago chef who prefers to get out of the city center.
The address is 9301 W 191st Street, Mokena, IL 60448, which is a block from other retail and restaurants, and across the street from Mokena's University of Phoenix Campus, as well as the Provena Health Medical Center.
There are 162 on site parking spaces in the building's sizeable parking lot. The property is less than 5 minutes from Highway 45, the city's main roadway.
This property has a very attractive opening bid of $995,000, a number substantially lower than the initial asking price of $1,795,000. Offers are expected during the lead up to the auction, and the seller has expressed interest in entertaining them. Properties such as this are frequently sold ahead of their auction date and time.
The September 28, 2013 Auction Event (#900) commences at 3:00 PM CDT at Micoley.com. Visit http://micoley.com to find more photos and details about the property, or by visiting in person and performing an inspection on site, which is highly recommended. 1-866-387-2382 is Micoley.com's information line. Additionally, Micoley.com features a live chat service through which questions can be answered.
Green Bay, WI-based Micoley.com is a real estate marketing firm specializing in project focused auctions of bank-owned properties throughout the United States. The Micoley approach to real estate marketing tailors each auction plan to the client's individual needs. The site is constantly being updated for the benefit of buyers, as large scale auction events are held monthly, and new properties are added daily. Firm: Micoley.com LLC #481.011994 Broker: Bob Stone #471.015845