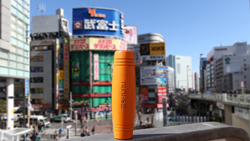 Tokyo, Japan (PRWEB) March 09, 2017
MOKURU's Kickstarter campaign to raise funds for their flipping, spinning wooden desk toy has raised nearly $55K, surpassing their latest stretch goal of $50K. The MOKURU team continues to work on new developments and make strides on Kickstarter with a growing community of 1.5K+ backers.
MOKURU seeks to serve as a hand-eye coordination improvement tool, as well as a fun, single player or multiplayer game. In order to add customization to the MOKURU experience, individuals will soon have the option to order two new color options, including yellow and green, with new ideas on the way. The MOKURU team plans to continue to add to their line of desk toys and grow the MOKURU collection in the near future.
"Our hope is to introduce MOKURU to the world and see it in every pub, classroom and office, to help build teamwork, camaraderie and hand-eye coordination skills," said designer Masakazu Node. "The MOKURU you see now is just the beginning. We came up with so many prototypes to reach the product we have now, so we can only imagine what MOKURU will look like in the future."
MOKURU was designed with everyone in mind to help them train their quick reflexes and balance skills. MOKURU currently comes in six different colors, including red, white, blue, orange, black, green, and now yellow. If players purchase five MOKURU through Kickstarter, they will also get a limited edition stand to keep all of their MOKURU in one place.
Early adopters of the campaign can pre-order MOKURU on Kickstarter for CA$14, which is 30% less than the future retail price. For multiple players, two MOKURU can be pre-ordered for CA$22, which saves individuals 40%. The team recently introduced the yellow MOKURU after surpassing the $50K mark in funding. For more information about MOKURU, visit http://bit.ly/MOKURU_KS.
ABOUT MOKURU
Designed to test one's body, mind, and spirit, MOKURU products are designed to test the focus and balance skills of individuals. MOKURU takes great pride in offering players an affordable product that's ideal in any situation. For more information, visit http://www.mokuru.com.