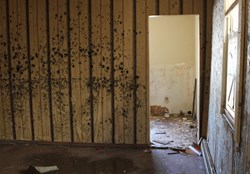 ...for the mold treatment to be truly effective and safe, MCP only recommended the use of Molderizer and Safe Shield.
New York, NY (PRWEB) November 01, 2013
Mold has become one of the worst problems Sandy left its victims. That's because until today, it remains a big trouble to the New York City residents, said a report from nbcnews.com dated October 29, 2013. And so, wanting to help mold sufferers, Sandy victim or not, My Cleaning Products shared some mold removal tricks to get rid of the fungus fast and safe.
According to the article, even after a year since the hurricane landed, many houses in the city were still deemed unsafe and restricted due to mold presence, My Cleaning Products said. Particularly, it detailed that 433 buildings remained red-taped, which means they are regarded perilous for people to enter. Meanwhile, 1,013 other structures, it added, were yellow-taped with some restrictions.
Besides the structural damages, MCP stated that it was also said in the report the spores had caused residents some health issues as well. And until today, it shared that many of them are still suffering from the illnesses that mold caused or worsened.
Below is an excerpt from the post Mold After Sandy Still a New York Problem by My Cleaning Products.
"It has been more than a year since Sandy swept the east coast. But even until today, it continues to cause troubles with the mold that it has caused.
Hundreds, even thousands, of people in New York City are still fighting the troublesome spores. Some of them couldn't even get inside their houses or establishments yet."
My Cleaning Products said that the report about the post-Sandy mold displays the fungus' severe damaging effects to structures and health. However, it said that there's a way to avoid all of it and the big expense that come along with them.
That way, MCP determined, is the DIY mold remediation process. As long as the spread of the spores is not more than ten square feet, it stated that one could do the removal himself, thus, avoiding paying someone to do it.
However, for the mold treatment to be truly effective and safe, MCP only recommended the use of Molderizer and Safe Shield. As it said, those two mold removal products were already proven effective by hotels, hospitals and even other mold remediation companies.
Moreover, it cited that both are safe. It detailed that they are made with organic ingredients, so they leave no residue that could harm the health or the environment.
Complimentary Samples of Molderizer and Safe Shield are available at MyCleaningProducts.com, MCP relayed.