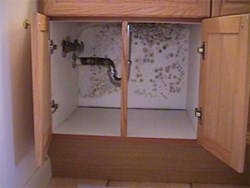 ...two solutions [Molderizer & Safe Shield] could help any mold victim clear the fungus effectively without spending too much money.
Cape Coral, FL (PRWEB) December 09, 2013
A recent mold discovery at Cape Coral's Fire Station #2 led to the closure of the facility. News website nbc-2.com related the details about it on its post dated December 06, 2013. Meanwhile, to others with the same mold problem, My Cleaning Products shared some mold removal tips to be of help.
According to the report, because of the mold, the firefighters and the equipments were moved out of the station located at Nicholas Parkway and Cultural Park Boulevard, My Cleaning Products shared. Temporarily, they were transferred to the city's Emergency Operations Center, it detailed.
As it was also said in the post, a water damage caused the mold problem in the firehouse, relayed MCP. It added that it was particularly found at its kitchen. Moreover, it related that the repairs for the building were expected to take about 30 days.
Below is an excerpt from the post Mold Closed a Cape Coral Firehouse by My Cleaning Products.
"A fire station in Cape Coral recently joined the list of firehouses found with mold. And just like most of them, it also had to be closed.
The fungus was discovered particularly in the city's Fire Station #2 and was believed to have been caused by a water damage. Invading its kitchen, it forced the staff to move out and give way for the treatment and repairs of the building."
My Cleaning Products said that mold could grow anywhere as long as there is moisture that would support its growth. Because of that, it said that like Cape Coral's fire station, anyone's home could have also been infested by spores.
With that possibility, MCP advised the public to be always on the look out for mold signs. And when one is encountered, it stressed that a person must then act quickly and implement a mold treatment.
MCP stated that one could call a mold removal company to get the remediation done. However, it cited that a single treatment by a professional could cost almost $1000. More than being expensive, it also pointed out that it is not cost-effective for a mold problem that is not yet massive.
And so, in such a case, the company recommended that use of Molderizer and Safe Shield instead. It stated that the two solutions could help any mold victim clear the fungus effectively without spending too much money. In addition, because they are both organic-based, it said that one could also implement a complete remediation process safely with their help.
To try them, MCP urged the public to get Complimentary Samples of Molderizer and Safe Shield at mycleaningproducts.com.