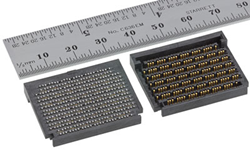 WILMINGTON, Mass. (PRWEB) December 10, 2019
Heilind Electronics, a leading global distributor of electronic components and authorized distributor for Molex, is now stocking the Molex Mirror Mezz connector system. Offering data rates of up to 56 Gbps per differential pair, this solution lowers application costs with stackable mating and is ideal for space-constrained servers, networking and telecommunications equipment -- especially for companies adopting OCP hardware.
The Molex Mirror Mezz high-speed mezzanine system features a stitched ball grid array (BGA), which reduces lead times and allows for a simplified product matrix. In addition, an intricately designed terminal structure provides numerous mechanical strengths and cutting-edge electrical features to facilitate high data rates.
A key benefit of these self-mating, hermaphroditic Mirror Mezz connectors is that they easily achieve a mated stack height that meets an application's requirements. This is especially important for engineers facing design-in challenges due to shrinking real estate. Various combinations of the 2.50 and 5.50 mm connectors result in 11.00, 8.00 or 5.00 mm mated stack heights. Offering a 1 A maximum current per contact, the connectors carry a maximum voltage 30 VAC and feature a dielectric withstanding (hipot) voltage of 500 VDC.
Visit Heilind's website for more information about Molex Mirror Mezz Connectors.
About Heilind
Heilind Electronics, Inc. (http://www.heilind.com) is one of the world's leading distributors of connectors, relays, sensors, switches, thermal management and circuit protection products, terminal blocks, wire and cable, wiring accessories and insulation and identification products. Founded in 1974, Heilind has locations throughout the U.S., Canada, Mexico, Brazil, Germany, Singapore, Hong Kong and China. Follow Heilind on Facebook at facebook.com/Heilind and on Twitter at twitter.com/Heilind.
About Molex
Molex brings together innovation and technology to deliver electronic solutions to customers worldwide. With a presence in more than 40 countries, Molex offers a full suite of solutions and services for many markets, including data communications, consumer electronics, industrial, automotive, commercial vehicle and medical.