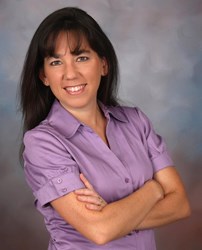 I am very pleased that women find Busy Mom's Survival Guide to be informatively entertaining. I try to have each broadcast offer practical advice.
Scottsburg, Indiana (PRWEB) December 30, 2013
The "Busy Mom's Survival Guide" podcast is gaining a national following with segment downloads expected to surpass one million in the months ahead, announced host PJ Jonas, the mom of eight and entrepreneur who founded http://www.GoatMilkStuff.com and began the podcast as a forum for women, especially mothers. Podcast downloads exceeded 600,000 at year-end, up 20% from a month earlier.
The Busy Mom's Survival Guide includes compelling guest interviews via Skype from her Indiana farm. PJ offers advice and entertaining stories about a range of topics from raising her children, ages 6 to 17, to building a thriving family business, Goat Milk Stuff. She also shares opinions and comments received from listeners.
The Busy Mom's Survival Guide podcasts are online at http://www.BusyMomPodcast.com and include in depth discussions about parenting, raising a family, issues of farm life, discussions of homeschooling and much more.
PJ won the 2013 Leading Moms in Business competition of StartupNation, and she and husband Jim received Indiana's EDGE Entrepreneur Award for their entrepreneurial leadership building Goat Milk Stuff. She and her family have been featured in Oprah Magazine and on TV's The Doctors and The Today Show, among others.
As a busy stay-at-home mom, the former engineer taught herself to make natural soaps with milk from the family goats so that her children could wash without the chemicals found in so many commercial soap brands. From that humble start, she branched out to selling soaps at local fairs to earn extra money for family expenses. Soon, the business began to grow and husband Jim joined full time. Today, the Jonas family makes and markets natural goat milk soaps, lotions, bath products, lip balms and more across the USA and worldwide.
PJ said, "I am very pleased that women find Busy Mom's Survival Guide to be informatively entertaining. I try to have each podcast offer practical advice based on my experiences as well as bring to podcast listeners and viewers interesting guests to help them in their everyday lives."
The Busy Mom's Survival Guide podcast began and still features PJ interviewing family members about the alphabetically-named homeschooled children's experiences and her husband's homeschooling expertise as a former science teacher.
The podcast has expanded to include guest interviews with leading authors and others who bring important perspective to issues of concern to women.
Available for download, guest interviews on the Busy Mom's Survival Guide include a discussion with Eric Chester, acclaimed author of "Reviving Work Ethic." In a two-part interview on her podcast, he discussed the importance of rebuilding the work ethic that made America great. The award-winning speaker also shares his insights at http://www.RevivingWorkEthic.com. He commended PJ for teaching her children important lessons by involving each in the family business with age-appropriate tasks from milking goats to helping in the office.
Another upcoming podcast guest is Jill Savage, author of the popular book "No More Perfect Moms." Known for her Hearts-at-Home conferences and child rearing tips at Hearts-at-Home.org, she discussed her efforts to "encourage, educate, and equip every mom in every season of motherhood."
In a two-part podcast, PJ also interviews Dr. Kathy Koch, author of "How am I Smart?: A Parent's Guide to Multiple Intelligences," about her advice for parents, teachers and others to better understand children and teenagers. The speaker and former professor at the University of Wisconsin, informed PJ's podcast audience about her work at http://www.CelebrateKids.com to help people become better parents.
"It's a joy to share experiences with women who are busy moms facing similar problems and challenges raising their families. Through shared insights we learn from each other about raising teens, 'tweens and younger ones too. For both stay-at-home moms and those who work, since I am both, our family's dedication to building a business seems of special interest," said PJ.
The Jonas family business maintains an active social media presence with a growing following on Facebook.com/GoatMilkStuff, YouTube.com/GoatMilkStuff, Twitter.com/GoatMilkStuff, Pinterest.com/goatmilkstuff, and Google-Plus.
Online at GoatMilkStuff.com, the Scottsburg, Indiana company makes and markets all-natural Goat Milk Stuff™ products including goat milk soaps, lip balms, lotions, bath bombs, laundry soap, soy candles and more. For media, contact Brian Dobson at DobsonPR.com or BD (at) DobsonPR.com.